Lady Indians open swim season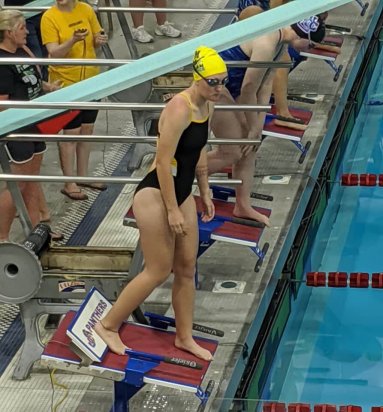 SUBMITTED PHOTO
Milan girls swimming went up against some stiff competition in its season opener last week, falling in a dual meet at East Central.

The Lady Trojans won the dual contest with 101 points while Milan came away with 62 points. The Lady Indians had a total of eight Top 3 finishes for the evening.

Ariel Haessig paced the black and gold with a first place finish in the 200 individual medley, winning that in a time of 2:26.85 while also finishing runner-up in the 100 fly in 1:08.84. Emilee Knueven had a pair of second place finishes in the 200 freestyle and the 500 freestyle in times of 2:24.77 and 6:18.56 respectively. Abby Moore was runner-up in the 100 backstroke in 1:23.93.

Ellana Jutzi gave Milan a third place finish in the 50 freestyle in 32.17 seconds and Moore was third in the 100 freestyle in 1:09.60. Chloe Hunter swam the 100 breaststroke and was third in 1:43.02.

Milan hosts South Dearborn and Switzerland County on December 2.