Lady Indians softball defeat Shawe, Richmond, drop doubleheader to Jennings Co.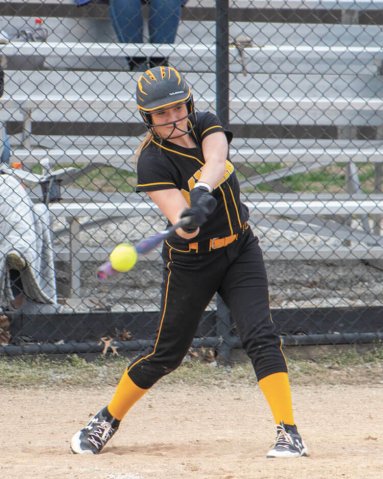 jared rogers photo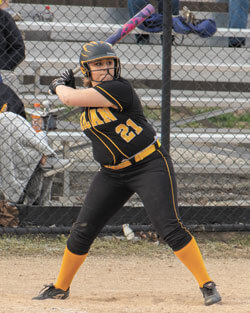 Milan's softball team opened their season against Shawe Memorial on Wednesday, April 3, with a rousing 19-3 victory. The game was over almost as quickly as it began, with the Lady Indians putting 12 runs on the board in the top of the first inning. They went on to score four more in the third, and three in the fourth, before the game was called after the fifth inning.
Several Milan athletes had hits on the game, including: Kaitlyn Tuttle (3), Megan Brown (2), Olivia Davis (2), Maggie Schmidt (2), Erin Widener (2), Taryn Cline (2), Abby Ferreira (2), Hailey Smith (1), Courtney Bruns (1), Mackinze Deffinger (1), and Savannah Rosenbarger (1). Both of Cline's hits were good for home runs. Brown led her team with four RBIs.
On defense, pitcher Erin Widener was credited with the win. In three innings pitched, she struck out five batters while only allowing one hit. Audrey Schmidt's one and two-thirds innings and Taryn Cline's one-third of an inning rounded out the game for Milan from the mound.
The following night, Thursday, April 4, Milan hosted Jennings County for a weekday doubleheader. The Lady Panthers took both games, winning 12-0 and 17-3.
In the first game, Erin Widener led her team with two hits, while Megan Brown, Olivia Davis, and Cassie Franklin each had one.
In the second game, Widener and Franklin each had two hits, while Brown, Davis, Courtney Bruns, Taryn Cline, and Abby Ferreira each had one. Brown led the team with two RBIs.
Finishing up a busy week, the Lady Indians hosted Richmond on Saturday, April 6. Milan earned their second victory on the season by a score of 10-4. It was four runs in the fourth inning and three in the fifth that helped the Lady Indians put that game away.
Milan's softball squad is back in action on Wednesday, April 10, when they plan to travel to Switzerland County for a road game.