Lady Indians win 2A sectional opener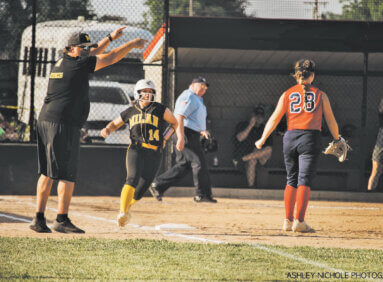 PHOTO BY ASHLEY NICHOLE PHOTOGRAPHY
Milan's journey towards an IHSAA Class 2A Sectional 45 softball title is one step closer after the Lady Indians routed Southwestern (Hanover) 10-0 on Monday night at Brownstown Central.

The Milan victory snapped a two-game losing skid and allowed the black and gold its 20th win of the year. An opening round win for the Lady Indians put them in the sectional semifinals on Wednesday against South Ripley. Brownstown Central and Hauser played in the second semifinal matchup.

Southwestern's defense did its best to keep Milan's bats cool early on but after two scoreless frames such a task could no longer hold. The Lady Indians broke free with two runs in the top of the third and followed it up with a run in the fourth inning. A 3-0 advantage blossomed into 10-0 when Milan tacked on a seven-run fifth frame, officially sinking the Lady Rebels who could not score in the bottom of the fifth and fell victim to the 10-run mercy rule.

Milan put up its 10 runs on 12 hits which included freshman Mallory Eaglin going 2-for-3 with a solo home run, two RBI and a run. Classmate Tryniti Reed had two base hits with an RBI and run while Eleanor Honnert hit a double as part of a 2-for-2 day with two runs scored. Karsyn Bode, Kynadee Bode, Abby Moore and Nevaeh Carpenter all recorded at least one RBI on a base hit and the duo of Emma Voss and Chloe Hunter each had a hit and run scored.

Kynadee Bode was the winning pitcher, throwing a complete game five-hit shutout. The freshman struck out five without issuing a walk. Riley Scroggins hit a double for Southwestern with Ashley Fulton, Riley Crawford, Breona Brewer and Allie Birchfield collecting a base hit apiece
.
Southwestern (14-15) saw Fulton take the pitching loss, going four and one-thirds innings and allowing seven runs -five earned- on eight hits with two walks and a strikeout.
Milan entered the semifinal round on Wednesday with a 20-10 record. The Sectional 45 Championship is being played tonight at 7:30.