Lady Indians win 64-25 at home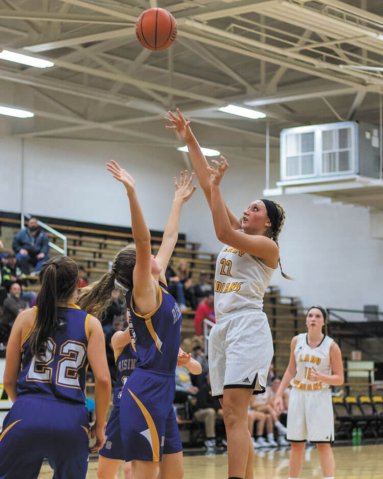 JARED ROGERS PHOTO
The Milan Lady Indians basketball team hosted ORVC opponents the Rising Sun Lady Shiners on Thursday, Dec. 19. The home team enjoyed a commanding win, 64-25, that boosted their record to 2-8 for the season.

Milan took control of the game from the start, creating a double digit lead within the first eight minutes of play. Back-to-back 17 point quarters for Milan gave them a 34-9 advantage at the half time break. Then, the Lady Indians scored 15 apiece in the third and fourth quarters to cruise to victory.

Junior Lauren Roell led Milan with 17 points, all scored on inside buckets and free throws, including a second quarter high of seven points. Senior guard Makayla O'Brien followed Roell with 16 points. O'Brien hit two three-pointers and was four for six from inside the three-point arc. She also led her team with five assists.

Senior Cici Bailey earned another double-double with her 11 point, 11 rebound performance, capped by four assists, two steals, and three blocked shots.

Rounding out scoring for Milan: Maddie Schmidt seven, Angela King three, Kacey Pindell three, Eleanor Honnert three, Olivia Davis two, and Riley Clark two.

Prior to the varsity match, the junior varsity Lady Indians fell to Rising Sun 41-34. Riley Clark led the reserve team with 17 points, including three, three-pointers.

Additional scoring for Milan's JV: Olivia Davis seven, Eleanor Honnert four, Bailey Ball two, Isabel Kroner two, and Isabella Knueven two.

On Saturday, Dec. 21 Milan traveled to Morristown to face the 2-7 Lady Yellowjackets. The home team earned a 46-38 win to improve to 3-7 while Milan fell to 2-9 overall.

Down by six at halftime, Milan made a third quarter run, outscoring the hosts 12-7 in the third quarter. A fourth quarter rally by Morristown fended off Milan for the eight point victory.

The Lady Indians are currently on a seven day holiday break. They'll resume action in a non-conference game against Class A Borden on Saturday, Dec. 28. The Borden Lady Braves are currently 6-6 on their season. Regarding shared opponents, Borden and Milan have defeated Shawe and lost to Southwestern (Hanover) this year. Their game is scheduled to tip off at 1:00 p.m. in Milan.