Lady Raider 4th grade goes undefeated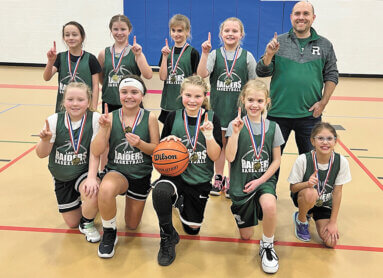 SUBMITTED PHOTO
The future of South Ripley girls basketball is bright and that includes a group of youngsters who went unblemished during the youth league season.

South Ripley's fourth grade girls basketball team recently completed an undefeated season with a record of 19-0. The Lady Raiders competed earlier this fall and winter in a league at Lawrenceburg for grades 4-6 before joining up with the third, fifth and sixth grade for league play at Southwestern (Hanover) to conclude the year.

The Lady Raiders finished with a postseason tournament championship in bracket play at the league in Hanover.

Team members for the Lady Raiders included Khloe Miller, Kamryn Seabolt, Allie Swinney, Elsie Goldsberry, Lilly Bowling, Madelyn Miller, Eva Lou Powaga, Rylee Leyendecker and Mersaydice Wullenwebber. The head coach for South Ripley was Brad Goldsberry.

South Ripley has had several notable performances from its youth basketball programs this winter and was a dominant force in other grade levels as the Lady Raiders were successful at all age levels around the area.