Lady Raider volleyball goes 1-1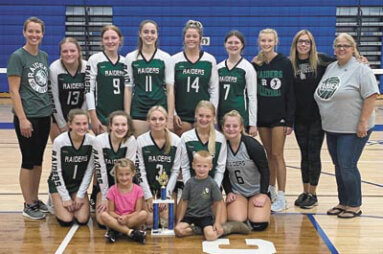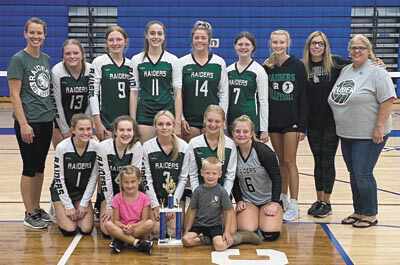 PHOTO COURTESY OF SOUTH RIPLEY VOLLEYBALL
South Ripley volleyball faced off against a new sectional nemesis on the road before coming home to take on a conference opponent as the Lady Raiders split two early week contests.

Monday night saw the green and white go to future Class 2A Sectional 45 host Hauser and the Lady Jets flexed their muscle against the defending sectional champions, winning 3-0 with two of the three sets coming rather convincingly.
Hauser won set one 25-10 before South Ripley was able to compete much better in set two despite a 25-23 loss. The Lady Jets completed the sweep in set three with a 25-16 victory. Statistically for the Lady Raiders, Brionna Linkel scored six points as part of 11 serves and led the team with nine digs. Suzie Gunter had six kills and three blocks while Kaidyn Gilpin had five kills and a block.

The Lady Raiders bounced back in a big way on Tuesday night against another sectional opponent, making quick work of visiting Switzerland County 3-0 in a match that also had Ohio River Valley Conference implications attached to it. South Ripley was a 25-11 winner in the first set and then put together scores of 25-12 in set two and 25-16 in set three.

Statistics for Tuesday night's contest were unable to be provided by time of print. The Lady Raiders now sit at 3-2 with a 2-0 mark in the ORVC. South Ripley is home tonight against South Decatur and plays at the Indian Creek Invitational on Saturday.