Lady Raiders Are ORVC Champs!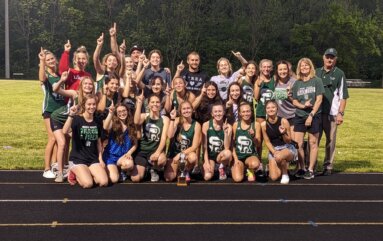 SUBMITTED PHOTO BY SOUTH RIPLEY SPORTS
South Ripley's girls track and field team pulled off a thrilling victory and the remaining coverage area participants followed suit with outstanding performances inside the Ohio River Valley Conference Championship Meet at Switzerland County on Tuesday night.

Hands down the highlight of the evening was South Ripley and its girls championship win. The Lady Raiders knocked off host Switzerland County 133-132 to claim the conference title while Jac-Cen-Del sat in third place with 88 points. Shawe and Milan rounded out the top five with 47 points and 33 points respectively while Southwestern (Hanover) had 23 points and Rising Sun picked up five points.

The Lady Raiders racked up four wins, three of which involved senior Lanie Nicholson who tallied the most points inside the girls portion of the race with 30.5 points. Nicholson won the 800 run in a time of 2:26.06 and followed up with a victory in the 3200 run in a time of 12:25.09. She, alongside Emily Campbell, Virginia Minch and Shelby Bastin then won the 3200 relay in 11:01.78. The other South Ripley win came from Emily Flood who won the 100 hurdles in 16.36 seconds.

Alexa Yeomans finished runner-up in the 100 hurdles at 16.81 seconds and Flood sat second in the 200 dash at 28.39 seconds. Yeomans went runner-up again in the 300 hurdles -52.04 seconds- and Nicholson placed second in the 1600 run at 5:31.84. Renee Tunny placed second in the discus with a toss of 83 feet and eight inches while the 400 relay team of Yeomans, Flood, Katie Miller and Hailey Ortiz ran second in 55.97 seconds.

Jac-Cen-Del also went for four wins on the evening. Cloey Simon ran a personal-best in the 100 dash at 13.20 seconds to pick up the win and then won the 300 hurdles in a school record time of 47.05 seconds. Also setting a school record was Kayla Simon who placed first in the 400 dash at a mark of 1:04.65 and rounding out individual wins was Emma Newhart in the discus at 88 feet and six inches.

Newhart went on to a runner-up finish in the shot put at 29 feet and two inches while Cloey Simon jumped 15 feet and 7.25 inches to go second in the long jump. Both Simons, Reagan Hughes and Emma Wanger ran second in the 1600 relay in a time of 4:38.23, which set a new school record.

Issabella Knueven was the top finisher for Milan in individual events. Knueven placed third in the discus at 79 feet and 10 inches then followed with a third place ribbon in the shot put at 28 feet and 4.25 inches. Abby Ball, Anna Herzog, Megan Weber and Kyleigh Bledsoe competed in the 400 relay and ran third in a time of 57.34 seconds.

On the boys side, Southwestern came away with the ORVC title at 114.5 points and Milan was second with 95 points. South Ripley put together a strong showing and was third with 69 points, Rising Sun was fourth with 65.5 points and Jac-Cen-Del placed fifth at 48 points. Switzerland County's 46 points and Shawe's 24 points rounded out the standings.

Four wins paved the way for Milan's second place night. Ayden Potts was a double winner, taking first in the 800 run at 2:07.88 and following with a 1600 win at 4:57.72. Ben Riehle won the 400 dash in 53.13 seconds and Mason Green won the 300 hurdles in 42.81 seconds. Riehle went on to take second place ribbons in the 200 dash and 100 dash in times of 23.13 seconds and 11.46 seconds respectively.

Austin Green was second in the high jump for Milan, going five feet and four inches. Johnny Volk, Mason Green, Potts and Riehle ran runner-up in the 1600 relay at 3:39.76.
Two wins highlighted Jac-Cen-Del's night. Josh Pohle won the 3200 run in a time of 10:50.90 and Corbin White threw 125 feet and nine inches to win the discus event. White came in second in the shot put at 41 feet and 5.25 inches while Pohle ran third in the 1600 at school record pace. He finished in a time of 5:04.39. In the 300 hurdles, Adam Maloney placed fourth at 45.56 seconds.

Ryan Miller and William Tunny went on to victories for South Ripley in field events. Miller won the shot put at 46 feet and two inches while Tunny went six feet to win the high jump, setting a personal record. Miller then placed second in the discus at 116 feet and Tunny scored second place in the 110 hurdles at 16.56 seconds. Evan Eaglin, Bradley Leach, Ryan Gorrell and Hayden Hooten placed second in the 3200 relay in a reported school record time of 9:24.76.

South Ripley, Milan and Jac-Cen-Del all now gear up for sectional meets next week at East Central. The girls meet will take place on Tuesday and the boys meet takes place on Thursday.