Lady Raiders begin E-Burgh tourney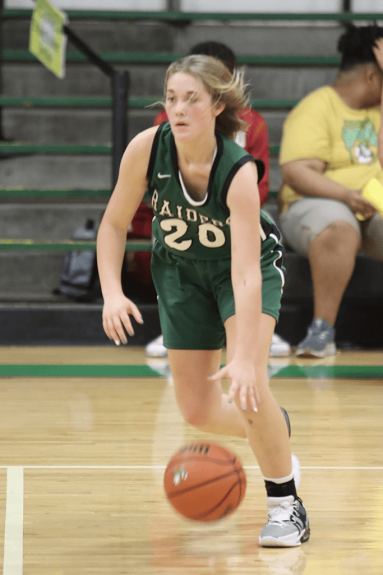 PHOTO BY LORI SAMPLES
South Ripley girls basketball very quickly shook free of a recent slump last Wednesday evening, dominating two teams to begin play in the Edinburgh Holiday Tournament sponsored by Johnson Memorial Health.

The Lady Raiders entered the tournament having lost their last two games and three of their last four contests.

A 57-11 catastrophe in a loss to Greensburg on December 17 was quickly forgotten as the Lady Raiders set a program record for least amount of points allowed in a single game on Wednesday, opening with a 41-4 blowout of a 3-11 Hagerstown squad. South Ripley blanked the Lady Tigers 24-0 in the first half before allowing the four points in the third quarter and then finishing out the contest on a 6-0 run.

Everyone in uniform saw playing time for South Ripley in the opener. Reese Obendorf led the way with 10 points while Lydia Cornett followed with eight points. Morgan Brightwell and Katelynn Samples each scored seven points, Lexi Franklin added six points and Lexi Mozingo chipped in three points.

The Lady Raiders allowed a few more points in game two but nonetheless it was still a dominant performance, defeating South Dearborn 57-28 in the semifinal round.

A 9-4 advantage through one quarter gave way to a 21-7 run by South Ripley to put the lead at 19 points heading into halftime. That paired nicely with a 17-6 surge in the third quarter to up the advantage to 30 points and South Dearborn could only manage to take down the deficit by a lone point in the fourth frame.

14 points in the second quarter propelled Samples to a game-high 23 points and Obendorf added 11 points for South Ripley. Cornett collected seven points, Brightwell and Mya McNew scored five points apiece and Valentina Cogni came off the bench in the fourth quarter for four points. Suzie Gunter made a third quarter appearance and scored two points.

South Dearborn (3-13) was led by Natalie Cantrell with nine points.

South Ripley (8-7) played Austin (8-6) in the championship game of the tournament last Thursday. Coverage from that game will be included in Thursday's Versailles Republican.