Lady Raiders blank Milan on Pink Out Night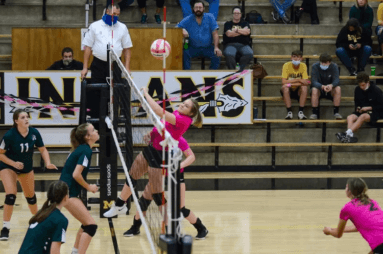 Photo by Teri Bockstahler Barker
South Ripley maintained its pursuit of a second place finish in the Ohio River Valley Conference and picked up a 3-0 win at Milan on Monday night in the Lady Indians' annual Pink Out for the Cure match.

While the Lady Indians continue to deal with a depleted roster, South Ripley took advantage and came out swinging in the first set to the tune of a 25-17 win. The Lady Raiders followed with a 25-16 victory in set two and finished the sweep with a 25-18 score in the third set.

South Ripley's Alexa Heidt led with 13 digs and 16 receptions while Brionna Linkel led with 28 assists and three aces while adding 11 digs. Rachel Meyer had 13 receptions and added 12 kills. Sarah Meyer finished with a team-high four blocks.

South Ripley (7-11, 2-1 ORVC) hosted Jac-Cen-Del in an ORVC rivalry match on Wednesday and hosts Hauser in non-conference action on Thursday. The Lady Raiders currently sit a half-game back of Southwestern (Hanover) for second place in the conference standings. Rising Sun clinched the ORVC title on Monday night, defeating Shawe 3-0 to go a perfect 6-0 in the conference.

Milan (5-11, 2-3 ORVC) fell 3-0 at Lawrenceburg on Wednesday and visits Switzerland County on Monday in an ORVC match. The Lady Indians entered Wednesday in a tie for fourth place in the ORVC with Jac-Cen-Del.