Lady Raiders blitz Cougars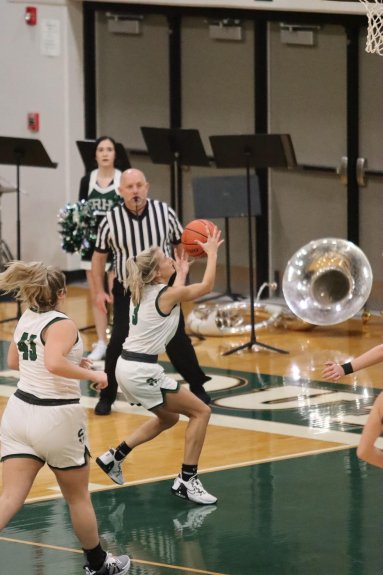 Photo by Lori Samples
South Ripley hit four 3-pointers in the first quarter and never looked back on Tuesday night, drilling visiting South Decatur 51-27 in a home girls basketball game.
The Lady Raiders have now won four-straight games after dropping their season opener to Austin. It is the third consecutive season in which South Ripley has had a winning streak of four games or better.

Tuesday night's showdown against former Class 2A Sectional 45 foes saw South Ripley get hot out of the gate as senior Emily Flood drilled three of the team's four 3-pointers in the opening stanza and Morgan Brightwell added a trifecta as the green and white led 17-8 early on. The lead only got bigger to finish out the half as the Lady Raiders used a 12-3 run to push the margin to 29-11 by intermission. South Decatur would make a min-run in the third period to get within 14 points but Ripley finished out the night on a 17-7 run in the final eight minutes.

Flood would finish with 13 points in the first half and lead all scorers on the night with a total of 16 points Katelynn Samples added 14 points -eight points in the second half- and Brightwell alongside Lydia Cornett scored six points apiece. Lexi Franklin put in four points, Reese Obendorf had three points and Valentina Cogni chipped in two points.
South Decatur (3-1) got 10 points out of Kiley Best, five points from Makayla Somers and four points apiece from Katie Gasper and Braylen Sundal. Molly Eden and Makayla Puckett each scored two points.

South Ripley (4-1) is home tonight against Lawrenceburg before visiting Batesville on Saturday in a Ripley County rivalry matchup.