Lady Raiders claim RCT title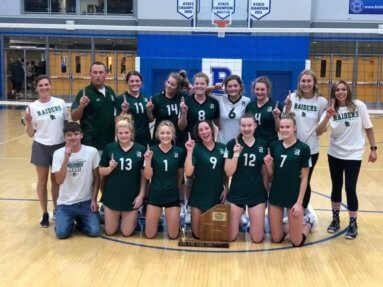 LORI MILLS PHOTO
South Ripley knew it would take a big time effort to knock off Batesville from its perch atop county supremacy but the Lady Raiders were game for such a challenge and after near disaster, claimed county bragging rights en route to the 2021 Ripley County Tournament volleyball championship on Saturday.

The tournament, held in Batesville, saw the Lady Bulldogs dethroned after South Ripley pulled together for a thrilling 3-2 win in the championship match. The Lady Raiders looked to be in the driver's seat for a sweep after winning the first set and second sets by 27-25 and 25-18 scores respectively but Batesville muscled its way back into the contest and pushed the match to a deciding fifth set.
Batesville won 25-16 in the third set and 25-17 in the fourth set to force the fifth and final set but its late momentum was soon extinguished as South Ripley eventually took back control and won the championship with a 15-12 victory in the finale.

Sarah Meyer recorded 16 kills in the match for South Ripley and Rachel Meyer had 10 kills to go along with two blocks. The two combined for five aces also while Katelynn Samples had two aces. Lydia Cornett led with 25 digs while Brionna Linkel had 23 digs and 22 assists and Gracie Gunter had 12 digs. Linkel and Samples each had a serving percentage of 100 percent.

Batesville statistics were not reported by time of print.

The two teams in the championship earned opening round wins on Saturday morning. South Ripley defeated Milan 3-0 while Batesville beat Jac-Cen-Del 3-0, both of which were the first meetings between the respective teams this season.

The Lady Bulldogs defeated Jac-Cen-Del by scores of 25-11, 25-18 and 25-20 to complete the sweep. The Lady Eagles however had some bright spots as Katelyn Wagner had three aces on 11-of-12 serving and Desiree Sparks was 12-of-12 serving with two aces. Olivia Strunk had three kills and Aundrea Cullen led with 18 digs. Batesville statistics were not reported.

South Ripley's sweep came by way of scores of 25-19, 25-15 and 25-13. Ellie Lauber led the green and white with 12 kills in the opening round while Rachel Meyer had 10 kills. Sarah Meyer, Linkel and Samples each had two aces while Lexi Franklin had two blocks and 13 assists. Milan statistics were not reported by time of print.

South Ripley (8-6) hosted Oldenburg Academy on Monday night before visiting North Decatur tonight and Batesville (6-7) visits East Central tonight in an Eastern Indiana Athletic Conference match.

Jac-Cen-Del (3-10) visited Rising Sun on Monday for an Ohio River Valley Conference match and hosts Oldenburg tonight. Milan is on the road tonight in ORVC action against Southwestern (Hanover).