Lady Raiders clean sweep Sectional 45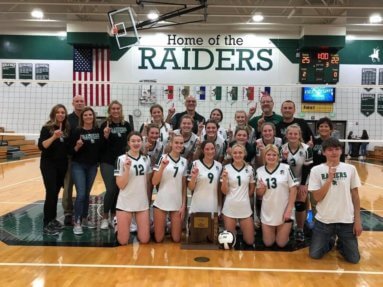 PHOTO COURTESY OF WENDY MEYER
A typical championship pedigree requires a lot of skill and a lot of momentum mixed with a little luck but South Ripley volleyball was in no need of luck this past week, using just flat out skill and momentum to dominate its way to the IHSAA Class 2A Sectional 45 title on its home floor.

Winning an opening round match on Thursday and following it up with back-to-back Saturday wins, the Lady Raiders never lost a single set as part of their sectional journey, winning nine-straight sets in decisive fashion to capture the program's first championship since 2016.

The championship match on Saturday night in Versailles saw South Ripley defeat four-time defending champion North Decatur 3-0 to punch its ticket to Saturday's two-game regional tournament. The Lady Chargers (23-9), who were ranked as high as No. 4 in the Class 2A polls this season, failed to ever gain control while the Lady Raiders grabbed early advantages in each set and never looked back.

The green and white won the first set 25-22 before putting together an impressive 25-18 victory in the second set. North Decatur attempted a late rally in set three but a chance to extend the match was quickly thwarted by South Ripley who eventually put the third set away at 25-22 to kickstart a worthy championship celebration.

North Decatur had no answer for South Ripley seniors Rachel Meyer and Sarah Meyer who totaled 14 kills apiece in the match and were a combined 17-of-20 serving. The twin sisters were each named to the All-Sectional Team with Rachel Meyer earning Most Valuable Player honors. Brionna Linkel, who was 10-for-10 serving with 29 assists and 13 digs, was also an All-Sectional pick as was Lydia Cornett who had 13 digs and was 14-of-15 serving.

South Ripley bested Austin 3-0 in the sectional opening round on Thursday night and earned a semifinal win on Saturday over Southwestern (Hanover), winning 3-0 over the Lady Rebels.

The two semifinalists had played a five-set thriller late in the regular season as part of the Ohio River Valley Conference slate with South Ripley winning that match 3-2 but the Lady Raiders were much more dominant in the postseason rematch, blasting Southwestern by scores of 25-14, 25-19 and 25-13.

Rachel Meyer recorded 19 kills and 14 digs in the semifinal while Cornett, Sarah Meyer, Gracie Gunter, Katelynn Samples and Cassie Franklin all had perfect serving percentages. Linkel had 10 digs and 20 assists.

South Ripley (22-10) faces Linton-Stockton (28-3) in the 12:30 p.m. semifinal as part of the IHSAA Class 2A Regional Tournament on Saturday at Mitchell High School. The first semifinal features host Mitchell (25-6) against North Posey (25-5) with the championship match slated for 7 p.m.

Linton, who also won its sectional in nine-straight sets, defeated Southridge 3-0 in a sectional championship match last Saturday night.