Lady Raiders drill Austin!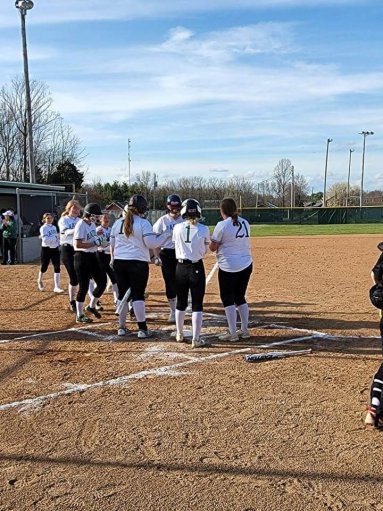 PHOTO BY LINDSEY BROWN
South Ripley softball enters the season as defending Class 2A sectional and regional champions and the Lady Raiders looked the part of a potential repeat champion on Monday, beating Austin 11-1 in five innings in Versailles.

The game served as the opener for South Ripley. The Lady Raiders have now won seven-straight season opening contests, the last three having come against Austin.

Ripley wasted no time in scoring runs, plating two of them in the bottom of the first inning and erupting for seven in the second frame. A scoreless third inning gave way to the Lady Raiders' final two runs in the bottom of the fourth. Austin's lone run was scored in the top of the fifth but the Lady Eagles were unable to muster up another score and the game ended via the 10-run mercy rule.

The Lady Raiders collected seven hits which was highlighted by Ellie Waldron's first home run of the season. Waldron, a senior, went 1-for-3 with two RBI's and a run scored while classmate Mady Tompkins went 3-for-3 with an RBI. Alexa Heidt knocked in a run with a triple and two runs scored as part of a 1-for-2 day. Emily Campbell had a hit and an RBI and Olivia Kavanaugh had a hit with a run scored while Daylene Adams and Brooklyn Brown each scored a run.

Tompkins earned her first pitching victory of the new year and was strong in three and one-thirds innings of work. She allowed no runs on two hits with seven strikeouts and one walk. Waldron pitched the rest of the way in relief and struck out four with one walk while allowing an unearned run on a lone hit.

South Ripley (0-1) is scheduled to host Oldenburg Academy tonight and heads to South Decatur on Saturday morning.