Lady Raiders fall in regional semi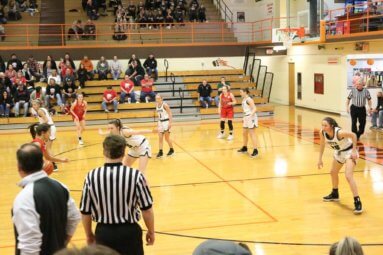 PHOTO BY LORI SAMPLES
South Ripley gave North Knox everything it could handle in the first half on Saturday afternoon but second half woes ultimately plagued the Lady Raiders in a 42-26 loss in the semifinals of the IHSAA Class 2A Girls Basketball Regional at Crawford County.

The victory was North Knox's first over the Lady Raiders in the all-time series. South Ripley defeated the Lady Warriors 60-59 in overtime in the 2001 Class 2A Semi-State at Seymour and also picked up a 65-40 victory in the opening round of the 2018 Class 2A Regional at Paoli.

Saturday's game played out much like the first half of the 2018 contest with the two teams trading blows and playing close in the first two quarters. A handful of lead changes took place before North Knox was able to sneak in a late bucket for a 13-11 advantage at the end of the first quarter and then took advantage of a couple Lady Raider miscues to get back out in front late in the second quarter for a 24-19 lead at halftime.

But once the second half started, North Knox's game plan to speed up the Lady Raiders really started to pay off. With South Ripley forced to get out of its methodical pace, forced shots and turnovers started to pile up. The Lady Warriors took advantage of both and raced out to a lead that was never threatened the rest of the way. A two possession game soon blossomed to a 34-20 North lead by the end of the third frame and North extended its margin by a deuce in the final eight minutes to clinch the 16-point victory.

South Ripley's only advantage of the day was inside the rebounding department, holding a 19-17 edge on the boards. The Lady Raiders shot 39 percent from the field but were just 20 percent from the three-point line and 33 percent from the free throw line. The green and white were the victims of 18 turnovers in the game.

No player scored in double figures for the Lady Raiders. Katelynn Samples scored all eight of her points in the first half while Gracie Gunter added six points. Emily Flood and Rachel Meyer scored four points apiece and the duo of Lydia Cornett and Alexa Heidt each scored two points.

The Lady Warriors were led by Alex McKinley with 13 points. North Knox (21-7) fell 46-39 to Forest Park in the regional championship game on Saturday night. The Lady Rangers, ranked No. 8 in Class 2A, faces Class 2A No. 6 University (23-4) in the Class 2A Semi-State this Saturday.

South Ripley ends the season with an 18-9 overall record but picked up three championships on the season. The Lady Raiders laid claim to the Ripley County Tournament, Ohio River Valley Conference and Class 2A Sectional 45 championships.