Lady Raiders fall vs. N. Decatur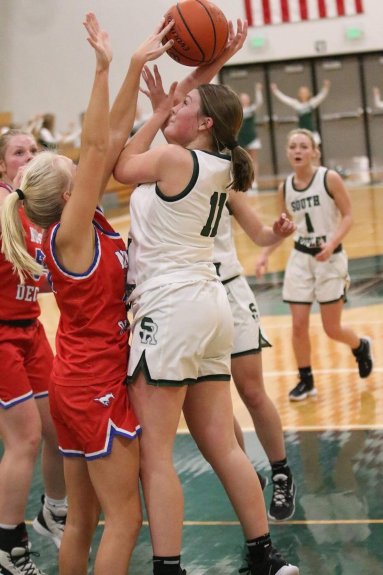 PHOTO BY LORI SAMPLES
South Ripley and North Decatur are considered two top teams among Class 2A Sectional 45 girls basketball squads and the two played the part on Tuesday night as the Class 2A No. 13 Lady Chargers pulled away for a 53-42 win over the Lady Raiders in Versailles.
The victory is just the second for North Decatur in the last five meetings against South Ripley. The Lady Raiders swept the season series a year ago, winning 46-37 on December 5 and picking up a 33-28 victory in last season's sectional.

North Decatur (9-2) trailed 13-12 early but went on a 9-5 run in the second quarter to get up by three points at halftime. South Ripley left four missed free throws out on the floor in the third quarter as the Lady Chargers continued to build on the advantage before 17 points by North was enough in the final frame to settle on an eventual double-digit win.

6-foot sophomore Ella Kunz played the part of a thorn in South Ripley's side, tallying 20 points for the evening to lead all scorers. The Lady Charger forward opened the game with six points but her remaining 14 points came inside the second half, 10 of which were in the fourth quarter. Junior Madelyn Bohman was the sidekick in the effort, scoring eight of her 12 points in the final two frames.

Freshman Madi Allen added 10 points to the cause.

South Ripley got 10 points from Katelynn Samples in the second half en route to a team-high 14 points and Gracie Gunter knocked down 12 points including two 3-pointers. Plaguing the Lady Raiders on offense was the fact that the team shot just 5-of-14 from the free throw line and just one other player was able to score more than five points on the evening.

The Lady Raiders (4-4) play host to Rising Sun on Friday night in the first meeting between the two Ohio River Valley Conference schools this season.
TUESDAY'S GIRLSBASKETBALL GAME
at South Ripley
CLASS 2A NO. 13 NORTH DECATUR 53, SOUTH RIPLEY 42
ND – 12 9 15 17 – 53
SR – 13 5 10 14 – 42
N. DECATUR (9-2) – Ella Kunz 20, Madelyn Bohman 12, Madi Allen 10, Kacey Barker 6, Kelsey Haley 3, Clare Kinker 2, Sydney Rohls 0.
S. RIPLEY (4-4) – Katelynn Samples 14, Gracie Gunter 12, Rachel Meyer 8, Emily Flood 4, Lydia Cornett 4, Alexa Heidt 0, Mya McNew 0.
3-Point Goals – ND 2 (Haley 1, Barker 1), SR 3 (Gunter 2, Meyer 1). Total Fouls – ND 13, SR 13. Free Throws – ND 6-12, SR 5-14. Fouled Out – None.