Lady Raiders finish 5th at E-Burgh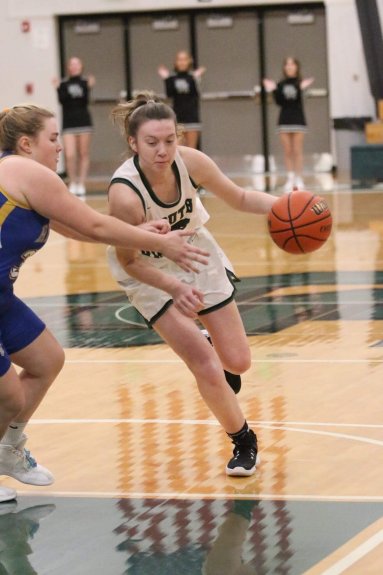 PHOTO BY LORI SAMPLES
South Ripley girls basketball shook free of a 2021 losing skid and came away with two wins and one loss as part of a fifth place finish in the Johnson Memorial Health Classic at Edinburgh.
The lone loss came last Tuesday afternoon, falling 31-28 to eventual classic champion Southwestern (Shelby). The Lady Spartans got ahead in the second quarter, ripping off an 18-3 run and forcing South Ripley to play catch up the rest of the way. The Lady Raiders held Southwestern to just six points in the second half but came up just shy after a 10-4 spurt in the final frame.

Ripley finished with just an 18 percent shooting mark in the game. Rachel Meyer led the way with 11 points while Gracie Gunter followed at seven points. Alexa Heidt scored three points with Katelynn Samples, Lydia Cornett and Mya McNew each chipping in two points. Suzie Gunter added a lone free throw.

The Lady Raiders bounced back with wins of 48-32 against Hagerstown and 50-13 over Knightstown respectively. The two victories ended what had been a four-game losing streak.