Lady Raiders split first weekend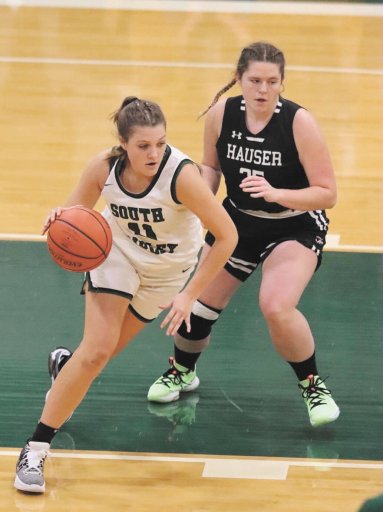 PHOTO BY LORI SAMPLES
South Ripley girls basketball faced a pair of tough Class 2A opponents and came away with a 1-1 split as part of the opening weekend of the 2022-2023 season.
The bright spot between the two days came on Saturday night as South Ripley got the best of Hauser in a 58-51 home win as the new Class 2A Sectional 45 foes did battle in Versailles.

South Ripley led 16-12 through one stop and maintained its four-point advantage through halftime before Hauser made things interesting in the third quarter and cut the advantage down to a lone point. The Lady Raiders recovered in the final eight minutes, scoring 15 points while the defense limited the Lady Jets to nine in the frame and got their first win of the year.

The green and white were strong from the field, shooting 47 percent overall and 52 percent from inside the arc as three players reached double figures. Senior Mya McNew poured in a career-high 15 points and classmate Katelynn Samples matched that total for the night. Reese Obendorf added 10 points. Lydia Cornett chipped in six points to the cause while Emily Flood, Lexi Franklin and Valentina Cogni scored four points apiece.
McNew and Samples each had eight rebounds while Samples also went for a team-high five assists. Cornett dished out four assists and Obendorf paced the defense with four steals.

South Ripley fell on the road 54-50 to Austin on Friday night in the season opener after the Lady Eagles gained an upper hand early and then held off a Lady Raider charge in the second half.

The Lady Raiders shot just 30 percent from the field and committed 18 turnovers in the loss. South Ripley also missed 12 free throws and was 15-of-27 from the charity stripe for 56 percent. Ripley's only bright spot offensively was Samples who recorded a double-double of 22 points and 11 rebounds. She was 8-of-14 from the field.
Flood and Franklin each had eight points while McNew and Obendorf scored four points apiece. Cornett and Morgan Brightwell both scored two points.
McNew led with a team-high four assists and Cornett had four steals in the game. Franklin added six rebounds

South Ripley (1-1) plays Milan tonight on the road in Ohio River Valley Conference action.