Lady Raiders split vs EIAC foes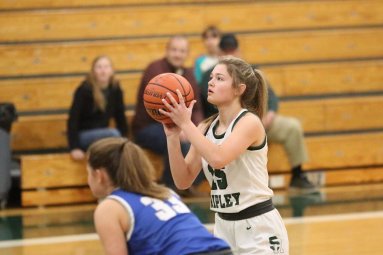 PHOTO BY LORI SAMPLES
South Ripley played the part of Ohio River Valley Conference representative last weekend against a pair of Eastern Indiana Athletic Conference teams and the Lady Raiders earned a split as part of the double dip slate.

A dismal 16 percent shoot ing night doomed South Ripley on Friday, falling 59-22 at Lawrenceburg. The Lady Raiders went scoreless in the first quarter and only mustered up six points total in the first half while the Lady Tigers put up 28 points and raced out to a big lead. Lawrenceburg's advantage continued to blossom in the second half as part of a 31-16 run in the final two frames.

South Ripley was just 8-of-50 shooting overall and 3-of-18 from the three-point line. Katelynn Samples was the only bright spot on offense, totaling 10 points on 4-of-8 shooting. Gracie Gunter had six points and Sarah Meyer had three points while Emily Flood and Lydia Cornett had two points and one point respectively.

Flood paced the rebounding efforts with nine boards while also tallying a team-high four assists. Gunter had five rebounds and two steals and a returning Rachel Meyer had two blocks in limited minutes.

Lawrenceburg (4-3) put three players in double figures with Lizzie Redar leading the way at 16 points. Kirsten Cross had 14 points and Molly Steuer finished with 10 points. The Lady Tigers had five players with seven or more rebounds in the game as the team totaled 46 boards for the night. The orange and black went on to knock off previously unbeaten Class 2A No. 20 North Decatur 55-40 on Monday night.

South Ripley's offense continued to struggle on Saturday but defense prevailed despite the fact en route to a low-scoring 33-25 victory at home over Batesville.

The Lady Bulldogs led for the entire first half after jumping out to a 13-7 advantage by the end of the first quarter but Batesville's offense froze up for the remaining three frames and the Lady Raiders began chipping away. South Ripley trimmed the deficit to just two points by halftime before embarking on a 20-10 surge in the second half to get the win.
South Ripley held Batesville to just two points in the second quarter and repeated the feat in the third period. The Lady Raiders led by three heading into the final period and used a 13-8 push in the final eight minutes to pull away for good.

Nine steals, 17 deflections and a pair of blocked shots made for a rather stingy Ripley defense. Gunter and Flood each had three swipes and Gunter's deflection total stood at six. Rachel Meyer posted both blocks in the game. Those numbers made up for a shooting night that saw South Ripley go 9-of-44 from the floor.

Gunter scored 12 points to lead the Lady Raiders and Flood scored eight points. Sarah Meyer scored five points, Samples added four points with Cornett and Rachel Meyer each chipping in two points.

Carley Pride led Batesville with nine points. Full statistics for the Lady Bulldogs were not provided by time of print.
South Ripley (4-3) hosts Class 2A No. 20 North Decatur on Tuesday night in what will be a big early season showdown between a pair of favorites this year in Class 2A Sectional 45.