Lady Raiders 'three-peat' sectional champions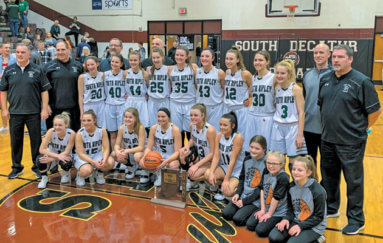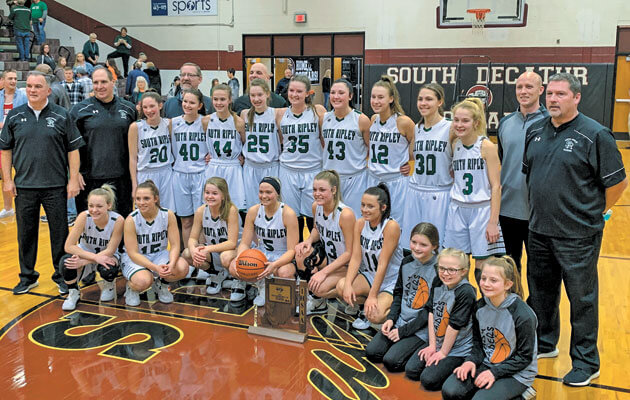 Jared Rogers Photo
The South Ripley (SR) Lady Raiders defeated the Switzerland County (SC) Lady Pacers in the IHSAA Class 2A sectional 45 finals held at South Decatur High School by a score of 55-29 on Saturday, February 2, to claim their third sectional title in as many years.
"We battled, we were up and down every game. The kids played their tails off," South Ripley Head Coach Brian Samples said of his team's journey to the title.
SR opened the sectional tournament with a win over South Decatur on Tuesday, January 29 by a score of 48-36. In the semifinals on Friday, February 1, SR defeated Southwestern-Hanover 48-34. Switzerland County's path to the finals had them defeating Milan by a measure of 41-34 in the semifinals after a bye through the first round.
The Lady Pacers started the final game with a stronger energy between the two teams, and took an early 8-5 lead through the first five minutes of play. Following a timeout by SR at that point, Lady Raiders senior Jill Scott sunk a three pointer, and just a minute later, hit a put-back shot inside to help her team take the lead 14-8 by the end of the first eight minutes.
From that point on, SR continued to find an offensive groove and mounted a defensive effort that forced several SC turnovers through the next three quarters.
Elexah Roepke started the second quarter with a lay-in field goal off of an in-bounds pass by teammate Morgan Peetz. Jill Scott then drained another three pointer to help her team build a double digit lead.
Mid-quarter, senior Morgan Peetz hit three consecutive field goals to create her own 6-0 scoring run. Each basket was a hustle play, the first coming off of a steal she caused, the second off of an offensive rebound, and the third from an in-bounds pass. After two field goals by SC to end the half, the Lady Raiders took a 10 point lead to the locker room, 29-19.
South Ripley added five more points to their lead early in the third quarter. A brief push by the Lady Pacers saw them get as close as 11 points away, before SR ended the quarter up 40-23.
The fourth quarter saw SR implementing a ball control game, intentionally slowing the pace in order to tick time off the clock. They played as tough on defense as at any point through the game, holding a tiring SC team to only one point in the first four minutes of the quarter. Coupled with baskets by Peetz, Roepke, and Rachel Meyer, the final buzzer rang with SR ahead 55-29.
"Our kids played hard the whole time and did what they needed to do to win," Coach Samples commended his players.
Being the third matchup between the two teams this season, of which South Ripley won both earlier matches by double digits, Coach Samples said he was proud of his team for not letting their fierce mentality lapse at any point. "You don't want to let up, and we didn't," he said.
Senior Morgan Peetz led her team in scoring with 14 points, which included going 4/5 from the free throw line. Also in double digits for SR were Elexah Roepke with 12 points, and Jill Scott with 10. Rounding out scoring for the Lady Raiders: Cierra Copeland eight, Lindsey Meyer four, LJ McQueen four, Rachel Meyer two, and Autumn Schmaltz one. As a team, SR went 19/25 from the free throw line, an impressive average of 76%. Switzerland County was led in scoring by Aaliyah Thomas with 15.
The championship means South Ripley will travel to Paoli High School next Saturday, February 9, to play in the regional tournament against Evansville Mater Dei at 10:00 a.m.
With their sectional championship, Evansville Mater Dei improved to 15-10 on their season. As of Saturday, February 2, they were ranked 26th in class 2A, compared to 25th for South Ripley. The winner of that game will return for an evening final (8:00 p.m.), also at Paoli High School.