Lady Raiders topple Shawe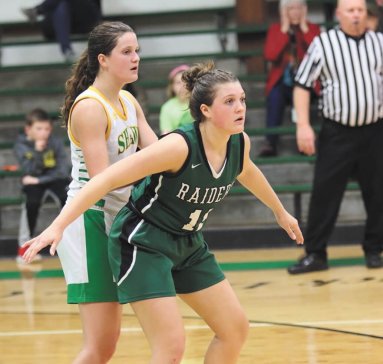 LORI SAMPLES PHOTO
A much anticipated Ohio River Valley Conference girls basketball showdown turned out to be a one-sided affair as South Ripley's defense stifled Shawe Memorial to the tune of a 45-24 final score in Madison on Thursday night.

Both ball clubs entered the game unbeaten in the ORVC. With the win, South Ripley remains the only team in the conference with an unblemished record.
From the get-go the game was all about defense for the Lady Raiders and offense would pick up momentum on what was given to it. The Versailles green and white busted out of the gate with authority, building up a 15-2 lead through eight minutes and the margin shot up to 26-9 by halftime as Shawe's offense continued to stall. South Ripley would add to its lead one final time in the third quarter, leading by as many as 27 points before the Lady Hilltoppers worked on trimming down the deficit to the eventual 45-24 final.

Shawe (7-5, 1-1 ORVC) shot a dismal 24 percent from the field including a 19 percent mark in the first half. Adding on to that were 13 turnovers which translated into 15 points for South Ripley. The Lady Hilltoppers were 3-of-22 from the three-point line for 13 percent and lost the rebounding battle by a 33-22 margin.
Offensively it was a 43 percent shooting night for South Ripley with the only downside being senior Emily Flood going down late in the contest with an injury. Flood exited leading all scorers with 14 points on 6-of-12 shooting while also pulling down five rebounds.

Katelynn Samples finished with a near double-double of nine points and seven rebounds and Lydia Cornett came off the bench for seven points. Reese Obendorf added six points, Mya McNew scored three points and the trio of Morgan Brightwell, Valentina Cogni and Lexi Franklin put in two points apiece. Samples and Cornett also had a team-high two assists each with Cornett's line also including three steals.

Shawe freshman Audrey Barron had 10 points but was just 3-of-11 from the field while Ava Turner and Hunter Mote scored six points apiece. Allison Knoebel had two points.
South Ripley (6-5, 2-0 ORVC) will try to keep its outright first place standing in the conference tonight when they host Switzerland County. The Lady Pacers, who fell to Shawe on Saturday night, are 1-1 in the ORVC.