Lady Raiders upset No. 5 Trinity Lutheran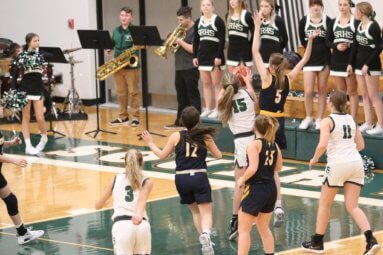 PHOTOS BY LOR SAMPLES
South Ripley played perhaps its best game to date on Tuesday night and in doing so knocked off Class A No. 5 Trinity Lutheran at home 47-24 in a non-conference girls basketball contest.
The victory is the first this season for the Lady Raiders over a ranked team and gives South Ripley back-to-back wins for the first time this year as well. It is the third win in the last four games.

Ripley wasted no time in using a suffocating defense that propelled the home team to an 11-2 lead in the first quarter before piling on 12 more points and holding Trinity Lutheran to seven points to balloon the lead even more by halftime. A 17-5 third frame spurt officially put the Lady Raiders in the driver's seat the rest of the way. The 24 points scored by the Lady Cougars was their lowest scoring output of the season.

Seven different players hit the score column for the Lady Raiders, led by senior Gracie Gunter with 13 points. Emily Flood scored nine points in the second half while Rachel Meyer sat just behind at seven points.

Trinity Lutheran (6-2) was led by Bailey Tabeling with 12 points but the junior guard and leading scorer on the team was limited to just three points in the final two quarters. Liza Froedge scored seven points, all coming in the second half.

Tuesday night's game ended late in the evening and full statistics were unable to be provided by time of print.

South Ripley (6-4) now sets its sights on Shawe Memorial tonight at home in an Ohio River Valley Conference game before heading to Franklin County on Saturday.

TUESDAY'S GIRLS
BASKETBALL GAME
at South Ripley
SOUTH RIPLEY 47, CLASS A NO. 5 TRINITY LUTHERAN 24
TL – 2 7 7 10 – 24
SR – 11 12 17 7 – 47
TRINITY LUTHERAN (6-2) – Bailey Tabeling 12, Liza Froedge 7, Kailene Cockerham 2, Carson Bowling 2, Madison Keith 1, Emma Schepman 0, Laura Roeder 0, Kayla Goecker 0, Hannah Durham 0, Kathryn Whitmore 0, Katelyn Schepman 0.
S. RIPLEY (6-4) – Gracie Gunter 13, Emily Flood 9, Alexa Heidt 7, Rachel Meyer 7, Katelynn Samples 6, Mya McNew 3, Lydia Cornett 2, Lexi Mozingo 0, Lexi Franklin 0.
3-Point Goals – TL 3 (Tabeling 2, Froedge 1), SR 3 (Flood 2, Meyer 1). Total Fouls – TL 7, SR 5. Free Throws – TL 1-4, SR 8-11. Fouled Out – None.