Lady Raiders win holiday tourney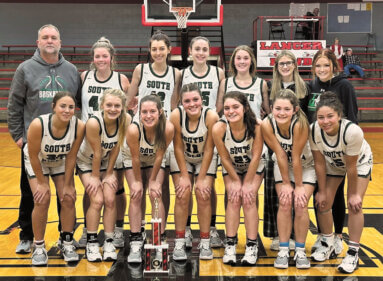 PHOTO BY LORI SAMPLES South Ripley girls basketball is all smiles after winning a holiday tournament last week in Edinburgh.
South Ripley girls basketball avenged a season-opening loss and in doing so laid claim to the Edinburgh Holiday Tournament championship, beating Austin 46-42 in overtime last Thursday evening.

Austin (8-7) beat South Ripley 54-50 on November 4 and the Lady Eagles had won three-straight games entering the championship game last week. The Lady Raiders have now won three-straight games for the second time this season. It was their first overtime game played this year.

No team ever led by more than two possessions but it was Austin early on who had the advantage, leading 10-6 and maintaining that four-point margin by a 21-17 score going into halftime. South Ripley erased the slim deficit with 14 points in the third quarter and a tie game was never able to break in the final eight minutes, forcing the overtime period. The Lady Raiders made sure no more time was needed, using the four extra minutes to put together a 4-0 run and get the victory.

The Lady Raiders scrapped for every bit of success in order to win the game. Despite a 37 percent field goal percentage, three players reached double figures, led by Reese Obendorf's 16 points. Lydia Cornett and Lexi Franklin each scored 10 points with Franklin's points coming on 4-of-7 shooting. Katelynn Samples added seven points while Mya McNew and Morgan Brightwell scored two points and one point respectively.

Franklin and Samples each posted a team-high eight rebounds while McNew had five rebounds, three assists and three steals. Cornett chipped in five boards, three assists and two steals.

South Ripley (9-7) plays host Milan in the opening round of the Ripley County Girls Basketball Tournament on Tuesday.