Lady Raiders win, JCD boys second at Great Pumpkin Inv.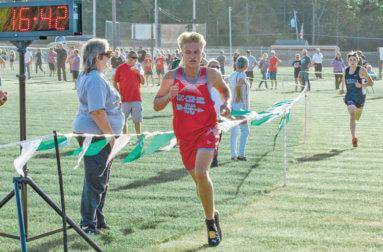 JARED ROGERS PHOTO
The South Ripley Lady Raiders took top team honors at their home course on Thursday, September 24 for the annual Great Pumpkin Invitational. The green and white squad were led by sophomores Lanie Nicholson, Emily Campbell, and Deborah Murphy, who finished first, third, and fifth in the girls race.

"Overall, I just felt really good during the race," Nicholson said of her winning performance. "Coach Cole had been having us spend a lot of time running [our home] course during practice, and I feel like this really helped prepare us to run."

As a team, SR scored 47 compared to Jac-Cen-Del's second place tally of 62. Southwestern (Hanover) placed third with 70, followed by Lawrenceburg in fourth with 76, South Decatur in fifth with 103, and North Decatur in sixth with 116. Milan and Rising Sun did not have complete girls teams.

The second place Lady Eagles had two runners finish in the top 10, Cloey Simon in sixth and Kayla Simon in eighth. Milan's Lucy Lillis led her team to an 11th place finish.

"The race had many great performances," SR Head Coach Jim Cole said. He noted that seven of his eight boys runners achieved personal best times, as did every girl on his team. "When you start running better at this time of the season it shows that the training plan is working and the athletes are responding."

In the boys portion of the meet, Jac-Cen-Del made a strong second place showing, falling only behind Southwestern by a score of 37 compared to the Rebels' 34. Coming in a distant third was Lawrenceburg with 104, then South Ripley in fourth with 111, Rising Sun in fifth with 129, South Decatur in sixth with 131, and North Decatur in seventh with 164. Milan's boys team was incomplete.

Damon Hughes won the boys race in close fashion with Southwestern's Trevor Smith on his heels. Eagles runners Joshua Pohle and TJ Menchhofer also broke the top 10, placing fourth and eighth.

South Ripley was led by Nick Zigan's 16th place finish. Milan's Noah Haessig led his team with a 30th place finish.

"I felt really fresh," Hughes said of his winning performance. "I paced myself well and I made sure I stayed with [Smith]." Hughes noted that in a race against the Rebels earlier this season, he felt he took off too soon for the finish line and ultimately spent his energy and placed behind Southwestern's top runner.

"You know it's going to be head to head right there at the end," Hughes continued. He and his team were proud of their showing at the Great Pumpkin race.

The cross country season is winding down for local teams. South Ripley, Jac-Cen-Del, and Milan runners all plan to run in the Batesville Invitational tonight, Tuesday, October 1. Then, the ORVC match is set for Saturday, October 5 at Hanover College, followed by the IHSAA sectional on Saturday, October 12 at South Dearborn's Moores Hill course.