Lady Raiders win ORVC title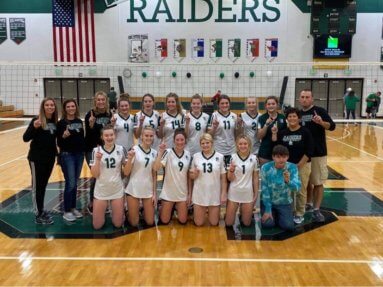 SUBMITTED PHOTO
The Ohio River Valley Conference produced one of its better seasons this year in terms of teams competing for a championship in the volleyball ranks but South Ripley survived the gauntlet and defeated Shawe Memorial 3-1 last Thursday night to capture the outright ORVC crown.

South Ripley finishes with an unblemished 6-0 mark in conference play, surviving Shawe, Southwestern (Hanover) and Rising Sun who were also contending for the ORVC championship.
Shawe started Thursday's match with a thrilling 32-30 win in the first set but back-and-forth action gave way to South Ripley controlling the match the rest of the way. The Lady Raiders responded with a convincing 25-14 victory in the second set before reeling off wins of 25-20 and 25-19 respectively in the third and fourth sets to get the monumental win. The victory is the 19th of the year for the green and white.

The biggest statistic of the night went to South Ripley junior Brionna Linkel who totaled 37 assists for the match and in doing so, recorded her 1500th career assist as a Lady Raider. That number currently sits as the unofficial career record at the school. Linkel also had seven digs in the contest and was a perfect 18-of-18 serving.

Sarah Meyer recorded 20 kills and Rachel Meyer had 15 kills as the twin sisters have combined for well over 1200 kills in their career through Thursday night's match. Rachel Meyer had two blocks while Katelynn Samples recorded a lone block. Samples and senior Cassie Franklin had a 100 percent serving rate.

South Ripley (19-10) also competed the night before on Wednesday in a non-conference match but fell 3-0 at Jennings County. The Lady Raiders will be considered a favorite in this week's Class 2A Sectional 45 Tournament and will open the postseason at home on Thursday in an opening round match against Austin (10-18).