Lady Raiders win RCT opener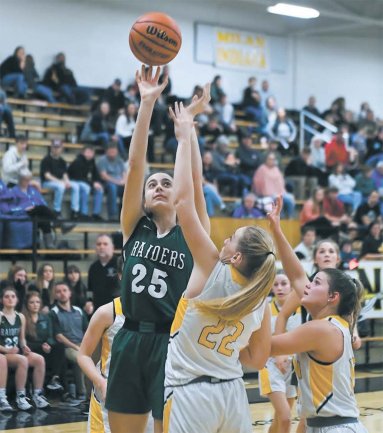 RICH FOWLER PHOTO
Milan hung around by two possessions through the first half but a second half swing went in the direction of South Ripley as the Lady Raiders pulled away from the host Lady Indians 44-29 in the opening round of the Ripley County Girls Basketball Tournament on Tuesday.

The victory is the fourth-straight for South Ripley who serves as the tournament's defending champion. Friday night will mark the fourth championship game appearance for the Lady Raiders in the past five seasons.

In high hopes of ending a 15-year winless streak in the Ripley County Tournament, Milan looked primed for such an occasion early and found itself within striking distance. The Lady Indians trailed 10-6 at the end of the first quarter but a 5-0 spurt to begin the second frame tied the game 11-11 before South Ripley recovered and finished the first half on an 11-5 run, taking a 22-16 advantage into the break.

It would be as close as the black and gold would get the rest of the way. Although the effort was most certainly there, mistakes piled up and the defending county champs took advantage long enough to never be threatened the rest of the way. With Milan's possessions limited due to turnovers, South Ripley went on a 9-3 run in the third quarter and ended Tuesday with a 13-10 edge in the fourth period, adding on to the double-digit lead and notching a 10th victory on the season.

The loss for Milan breaks up two-straight wins that won the Lady Indians the Holiday Hoopla Classic at Cambridge City Lincoln last week. Milan's losing skid inside the county tournament is now at 29 games.

With Reese Obendorf out of the starting lineup due to injury on Tuesday, South Ripley called upon Lydia Cornett to fill the void and she delivered with 10 second half points and finished with a team-high 12 points. Katelynn Samples added 10 points with eight of those coming in the final two quarters while a returning Emily Flood scored seven points and Morgan Brightwell put in six points. Mya McNew totaled four points, Lexi Franklin had three points and Obendorf scored two points in a limited third quarter appearance.

17 of Milan's 29 points came from freshman Kaiya Rinear, 15 of which were scored in the last three quarters. Anna Herzog and Emma Voss each put up four points while Autumn Rohrig and Kendall Budd scored two points apiece.

Milan (3-13) hosts Jac-Cen-Del in the consolation game on Friday night at 6 p.m. with South Ripley (10-7) playing Batesville in the championship game at 7:30. The Lady Raiders are looking for their 12th county title in program history.