Lady Twisters storm Trinity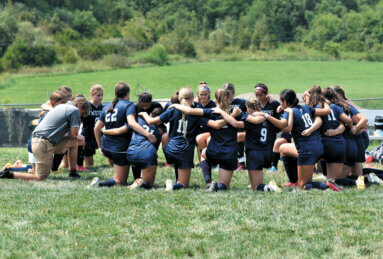 PHOTO COURTESY OF OA ATHLETICS
Class A No. 18 Oldenburg Academy put up one of the state's most powerful offensive performances of the season last Tuesday, pounding Trinity Lutheran 16-0 at home.
The Lady Twisters went off for 10 goals in the first half of the match before adding six goals in the second half as part of a 40 minutes that featured a mercy-rule running clock. Trinity entered last week as a team receiving votes in the Class A rankings.
Claire Niese recorded a hat trick and then some on Tuesday, scoring five goals to pace a high-octane Lady Twister offense. Addisyn Lambert notched two goals and single goals were scored by Jayne Lamping, Ellie Paul, Sadie Wachsmann, Bridgette Ehrhard, Olivia Leising, Isabel Price and Bridget Lohmueller.
Ellie Ryan racked up her third shutout of the season in the Lady Twister net. Oldenburg (3-2) was home against Centerville last Thursday and is at South Ripley tonight.