Langferman gets 100th win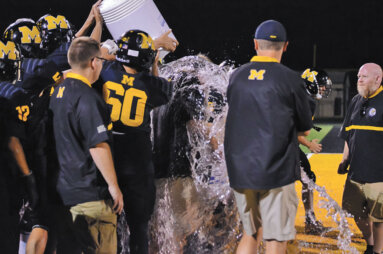 SUBMITTED PHOTO
Milan's Ryan Langferman provided championship-caliber memories for the Indian faithful as a player but now the head man of the black and gold is further etched into the record books as Langferman won his 100th career game as the Indian's head coach on Friday night as part of a 47-6 blowout at home against New Miami (Ohio).

Langferman played a part in sectional titles as Milan quarterback in 1995 and 1996 which included a regional title and semi-state appearance in 1996. He became head coach of the Indians in 2005 and led the tribe to six winning seasons during his first stint while also winning sectional crowns in 2010 and 2011. After taking a hiatus to continue an administrative role at the school, he returned to the sidelines in 2016.

That same season he was welcomed back with open arms after leading Milan to a 2016 Class A sectional championship. The Indians reeled off four-straight winning seasons to follow. In a total of 15 years as head coach, Langferman has a win-loss record of 100-66.

As for Friday night's game, Milan let loose on offense while the defense suffocated its visitors from Ohio. The Indians scored 21 points in the opening quarter before going up 35-0 by halftime and forcing a running clock the rest of the way. New Miami scored its only six points in the third quarter but Milan's response was 12 points in the final 12 minutes to get an overwhelming win and pull to within one game of the .500 mark.

Milan passed the ball just three times yet put up 309 yards of total offense as the rushing department totaled 243 yards on 24 carries. Riley Johnson led the way, scoring three touchdowns and collecting 129 yards on 14 carries while quarterback Brayden Rohrig ran for 43 yards and a score on two carries. Cameron Gilb had four carries, 40 yards and a touchdown. Seven different players for the Indians had at least one carry in the game.

All three passes by Rohrig were complete for a total of 66 yards and a touchdown. His scoring pass went to Jonny Volk on a 42-yard reception. Justin Caseltine had a catch for 15 yards and Mason Green had a grab for nine yards. Logan Burton added to the fun by going 5-for-5 on extra points.

New Miami (0-5) was held to just 125 yards of total offense on 40 plays. Quarterback Mason Stephens threw a touchdown pass but also threw an interception and was just 2-of-11 passing for 22 yards. Cirillio Lakes and Luke McGraw had 33 yards and 32 yards on the ground respectively while Stephens ran for 28 yards on 17 carries.
Mason Green recovered a fumble to pace Milan's defense and Jeremiah Johnson nabbed the interception thrown by Stephens. Logan Reed had a pass deflection in the contest.
Milan (2-3) hits the road this Friday night for a battle against Eastern Hancock. The Indians fell 26-24 to the Royals a season ago.