Last high school graduation held for 2022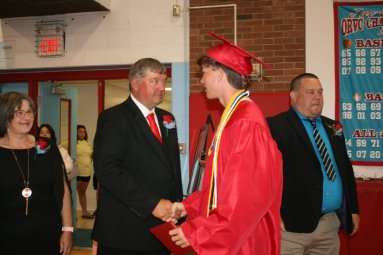 WANDA ENGLISH BURNETT PHOTOS
Saturday brought beautiful weather for the final graduation in the county at Jac-Cen-Del High School Gymnasium.

Commencement Exercises got underway around 2:00 p.m. with the high school band under the direction of Cameron Papandria playing "Fanfare and Processional".

A welcome was given by Fred Unsicker, high school principal, who welcomed the large crowd who had come to see the final act of their student receive their diploma.

The Class of 1972 Recognition was given as they are celebrating 50 years from the date of their graduation. Kathy Kemker-Duclaux gave a presentation noting they have lost 14 classmates.

Twin sisters – Cloey Simon, Salutatorian and Kayla Simon, Valedictorian – gave their respective speeches with Cloey saying, "Be like Indiana roads, never stop working on yourself no matter how difficult it may be." The crowd roared with laughter knowing the pain the road work is causing in the local area and also knowing when it is finished, it will be worth it!

The presentations of diplomas was handled by Frederick Unsicker, principal and Ryan Middleton, superintendent. The turning of the Tassel was led by Machaela Cobler, class president. The students were on their way to freedom, but not before they hugged their teachers and threw their hats high to celebrate all their hard work.

The program for the Class of 2022 from Jac-Cen-Del was full of accolades the students had received for their efforts over the years. The Jac-Cen-Del Foundation Dollars for Scholars handed out numerous awards, along with the Ripley County Community Foundation scholarships.

Two students graduated with an Ivy Tech Community College Core: Kayla Simon and Katelyn Wagner. Joshua Pohle graduated with an Associate's Degree in Design Technology from Ivy Tech Community College, along with his high school diploma. Many students received the Governor's Work Ethic Certificate, JAG (Jobs for America's Graduates) Certificates and Hoxworth Blood Center Certificates, just to name a few.

The Class of 2022 is well prepared to walk into the future.