Late rally lifts Eagles over Raiders 55-49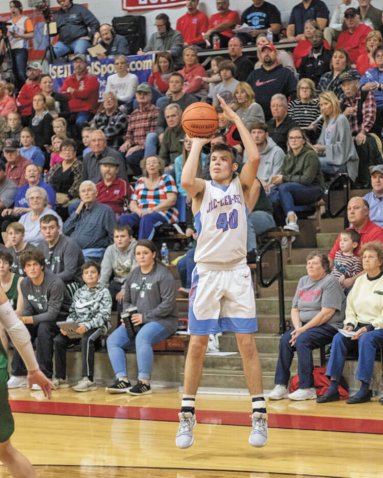 JARED ROGERS PHOTO
Boys basketball season tipped off in Ripley County with the annual "turkey shootout" rivalry game between South Ripley and Jac-Cen-Del, this year hosted by the Eagles in Osgood.

The visiting Raiders scored first and led at every quarter stop, but JCD's offense sprung to life in the fourth quarter and the Eagles opened their season with a six-point victory, 55-49.

Sophomore Caleb Simon led the Eagles with 19 points. He scored eight in the final quarter and hit four three-point shots. Senior Justin Ohlmansiek backed up Simon, scoring 10 points including seven in the final quarter.

Additional scorers for JCD included: Brandon Baber eight, Cameron Gehl eight, Will Neal four, Wyatt Day three, and Christian Comer three.

South Ripley junior Cody Samples led his green and white squad with 18 points, including two three-point shots. Senior Sam Evans followed Samples with 14. Evans pulled in several offensive rebounds and scored some of his points on put-back shots. He was also four for six from the free throw line.

Additional scorers for SR included: Zach Gentile seven, Aaron Greiwe four, Jaden Peetz four, and Cory Ralston two.

The Raiders opened the game with tenacious defense which disrupted JCD's efforts to move the ball and work their offense.

Forcing turnovers, SR then moved the ball effectively in their own offensive sets, showing off the ability to both shoot from range and drive to the rim. Even an early effort at a half-court trap by JCD did little to stymie SR's early momentum, and the first quarter ended at 12-8 in favor of the Raiders.

The Eagles took a brief 24-23 lead late in the second quarter. Two inside scores by SR lifted them ahead at the halftime break at 27-24.

The Raiders opened the third quarter with an 8-0 scoring run and led by as many as 10 points. The Eagles clawed back to trail by four, and the quarter ended with SR up seven, 40-33.

JCD's Simon opened the fourth quarter with a three pointer, followed by a layup by Day, bringing the Eagles back into the mix.

The Eagles displayed their best defensive effort of the game early in that final quarter, bringing SR's penetration attempts to a halt.

At mid-quarter, JCD's Ohlmansiek drained a three pointer to pull within one point, and Simon brought the Eagles ahead with another three under the three minute mark.

Both teams traded scores as the clock dwindled, with the Eagles holding a 50-49 lead with 49.5 seconds remaining. SR's Peetz had a decent look from three point range with under 30 seconds, but the ball bounced off of the rim and JCD's Neal pulled down the rebound. Late free throws by Baber, Neal, and Day sealed the victory, their sixth in a row over SR dating back to January 3 of the 2017-18 season.

Following their opening win, JCD traveled to Batesville on Nov. 30, where they fell to the Bulldogs by a score of 68-57. Next, they face Shawe Memorial at home on Dec. 3.

South Ripley boosted their record to 1-1 with a 49-35 road win over Rising Sun on Nov. 30. Next, the Raiders will host North Decatur at home on Dec. 7.