Late surge lifts Lady Eagles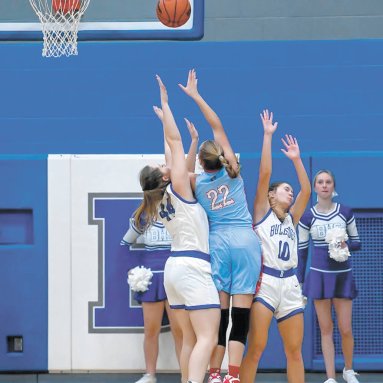 RICH FOWLER PHOTO
Class A Sectional 60 rivals Jac-Cen-Del and Waldron battled it out on Tuesday night in Osgood but in the end a huge fourth quarter push put the Lady Eagles over the edge, winning 47-33 over the Lady Mohawks in a non-conference affair.

The win for Jac-Cen-Del snaps a two-game losing skid over Waldron, which includes avenging a controversial 65-57 overtime loss to the Lady Mohawks in the Class A Sectional 60 championship game. Five of the last seven contests between the two schools have went in favor of the Lady Eagles.

A red-hot Jac-Cen-Del offense put them in the driver's seat early on as a 20-12 opening quarter then gave way to a 30-19 lead by halftime but Waldron answered right back and made things interesting in the third quarter. The Lady Mohawks finally cooled down the Osgood crew, embarking on a 12-1 run to open the second half which tied the game 31-31 heading into the final stanza. But not to be outdone, the Lady Eagles made quite the fourth quarter statement.

Jac-Cen-Del saw its offense return to form and the defense suffocated Waldron. The Lady Eagles ended the game on a 16-2 run, pulling back out in front and doing so in a big way to solidify a 14-point victory.
It was a big night for Jac-Cen-Del's Julia Meyer on offense as she led all scorers with 19 points and was the only Lady Eagle in double figures. Reagan Hughes added nine points in the win while both Kelsey Borgman and Olivia Neal scored seven points. Kaylin Hinners chipped in three points and Savannah Steele scored two points.

Jac-Cen-Del (5-4) plays on Saturday night at home against New Washington.