Late surge lifts Lady Eagles!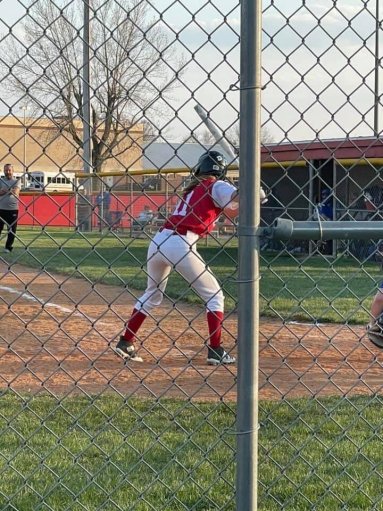 PHOTO COURTESY OF JCD SPORTS
23 runs on a combined 25 hits made Tuesday night's Class A softball clash between Jac-Cen-Del and Oldenburg Academy offensive-minded and in the end it was the visiting Lady Eagles picking up the victory by a 14-11 score over the Lady Twisters.

The loss for Oldenburg was its fifth-straight to start the season while Jac-Cen-Del notched its second win of the year. The Lady Eagles have now won two of their last three games.

Jac-Cen-Del opened the night with three runs in the bottom of the first inning but it was actually Oldenburg who pieced together runs faster early on, cutting the deficit to 3-1 in the bottom of the first before grabbing the lead with four runs in the bottom of the second. But not to be out done, the Lady Eagles responded, doing so two innings later with six runs in the top of the fourth and solo score in the top of the fifth.

Down 10-4, Oldenburg mounted a two-inning comeback of its own, plating a run in the bottom of the fifth before four runs in the sixth made it a 10-9 game with an inning to go. Jac-Cen-Del quickly recovered from the assault in the top of the seventh and returned to form with four runs and the insurance was more than enough in the bottom of the seventh. The Lady Twisters scored two runs to get back within striking distance but failed to extend the game.

The 14 Lady Eagle runs came on 14 hits, led by Regan Richter who was 3-for-5 with an RBI and a run. Maria Meyer, Olivia Strunk Emmalee Veerkamp, Bailey Groth and Ashlynn Moorman each had two hits which included Meyer's double and a triple apiece by Strunk and Veerkamp.

Meyer and Strunk each had two RBIs and three runs while Veerkamp had two RBIs. Tobie Benefiel was 1-for-4 with four RBIs and a run scored. Groth, Moorman and Sophia Sullivan had two runs apiece.

Reported Oldenburg statistics at the plate were only given through six innings of play. Heading into the final inning, Kate Weber, Hannah Langdon and Avery Hammerle each had two hits and two RBIs while Elle Bruns was 3-for-4 with an RBI and a run. Langdown and Hammerle both hit a double and scored twice.

Savannah James was the winning pitcher after starting the game for the Lady Eagles and going four innings. James allowed four runs -three earned- on five hits with six strikeouts and two walks. Weber threw a complete game for Oldenburg, allowing 14 runs -12 earned- on 14 hits with seven walks and five strikeouts.

Jac-Cen-Del (2-4) visits South Ripley on Friday night in an Ohio River Valley Conference rivalry game while Oldenburg (0-5) hosts South Decatur this evening.