Lauber named principal at SRES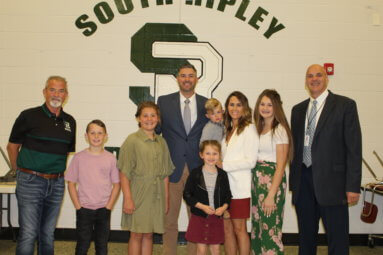 WANDA ENGLISH BURNETT PHOTO
South Ripley Elementary School will be having a change at the helm with Ryan Lauber filling the vacancy left when Amy Linkel took an administrative position with Swizterland County Schools. Supt. Rob Moorhead wished Amy well, and welcomed Ryan to the position – to which he is no stranger.

Lauber has been with the school for the past six years as assistant principal and said, "I'm ready to hit the ground running," of his new post. He attended the school board meeting Monday night with his wife, Jaime and five children, who range in age from three to 14.

The newly hired principal has been with the school for 11 years as a classroom teacher at SRES, teaching grades two and five. He has been involved in the implementation of many initiatives at the school over the past several years, including being a leader in the 1:1 technology initiative.

Lauber is a Google Level 2 Certified educator and is very proficient in the use of technology. He was also the leader in creating the Attend and Engage Program (AEP) with Ripley County Court Services that provides accountability and support to encourage families to make sure their students are in regular attendance at school. After piloting the program at South Ripley, AEP is used at schools across Ripley County.

A lifelong Raider, Lauber graduated from South Ripley High School in 1999. He received his Bachelor's degree from Indiana Wesleyan in 2003 and earned a Master's Degree in Elementary Reading and Literacy from Walden University in 2006. He earned his Educational Administration Licensure from Ball State University in 2010 and holds certification as an Indiana School Safety Specialist.

"We could not be more pleased to see Ryan Lauber step up to become the principal at SRES. Ryan is extremely well prepared to take on this role, as he has been an integral part of many initiatives throughout his time as a teacher and administrator at the school. Ryan has built relationships with the SRES staff and is highly respected by parents and community members as well. We look forward to SRES continuing the tradition of academic excellence under Ryan's leadership," noted Supt. Moorhead.

Another change that will not affect the students or staff in any way at the school, is that the School Resource Officer Eddie Rodriquez will now be affiliated with the Ripley County Sheriff's Office rather than the town of Versailles. Sheriff Jeff Cumberworth and Chief Deputy Kurt Enneking were at the meeting to welcome him on board at the sheriff's office. Sheriff Cumberworth said, "We're happy to have him, he's an asset to the office. He will continue to be strictly school orientated." The sheriff said it is a smooth transition and they will be getting him a police car. Attorney Merritt Alcorn, who has reviewed the contract, noted it was a fair agreement for both the school and sheriff.

Rodriquez said he is happy to serve at the school where he has grown a relationship with the students and staff over the years he's already served there.
Melanie Evans, 8th grade math teacher, was recognized for her dedicated work with Indiana Teacher Leader Bootcamp. She has finished the program bringing fresh ideas back to South Ripley that will enhance the learning process for many students. "I appreciate the opportunity," she told the board Monday night. She has had multiple meetings with both the high school and junior high school principals, Joe Ralston and Derik Hutton with Supt. Moorhead saying, "This is an outstanding project, we appreciate you getting involved."

This project will help transition students from the eighth grade to the high school and identify those who are at-risk or need an academic boost. Hutton noted, "The scope of her work is impressive. There is a reason she is a team lead for us."