Ledford wins 2021 Ripley Publishing Excellence Award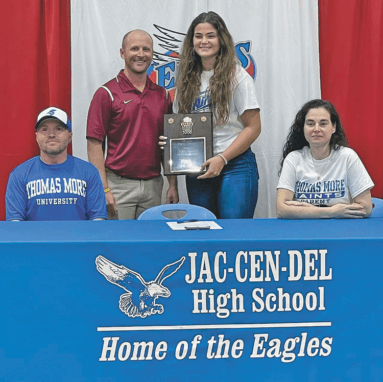 PHOTO BY JCD SPORTS
In her four-year career as a Jac-Cen-Del girls basketball player, Paige Ledford has won just about every award there is to be won and achieved just about every achievement there is to be had. But just in case she needed one more accolade to her impressive collection, Ripley Publishing added to the list last Tuesday night.
For her efforts on the basketball floor and for her commitment to team and sportsmanship, Ledford was recognized among family, friends and coaches at Jac-Cen-Del High School on Tuesday as the 29th Annual Ripley Publishing Company Inc. Girls Basketball Excellence Award winner. The award, voted on by coaches and media, recognizes an outstanding senior girl basketball player from either South Ripley, Milan or Jac-Cen-Del.

"It is certainly an honor to have won this award," Ledford said following the award presentation. "I am very blessed to have received so much during my career and am very happy to have been recognized for this award as well. It means so much to me. Ripley County holds a special place in my heart."

Ledford will go down as one of the most accomplished student-athletes of all-time in the county and the hardwood has certainly been her place to stake such a claim. The statistics alone make the case. In her four-year varsity career, Ledford averaged double figure scoring and rebounding in three of those seasons and her career totals not only rank her among the best at the school, but also in the state.

The senior finished her career as a Lady Eagle with 1,262 career points, making her one of nine in school history to reach 1,000 career points. The total ranks her fourth on the girls basketball career scoring list. Adding on to it, try 1,052 career rebounds on for size. She is just one of 13 players all-time in the state to reach 1,000 career rebounds and ranks 11th all-time in state history and is Jac-Cen-Del's all-time career rebounding leader.

Ledford finished out her senior campaign averaging 14.8 points per game and 11 rebounds per game while shooting 48 percent from the floor. In a four-year span, her totals helped guide Jac-Cen-Del to a record of 85-19 including three Class A Sectional 60 titles and one regional runner-up finish. She noted that one of her top memories was 2019 sectional championship game that saw the Lady Eagles outlast Waldron 67-61 in a classic that lasted five overtimes.
"It means a lot," Ledford said of being a Lady Eagle. "We get in the weight room right after the season is over and we are working nonstop to be the best we can be. I'm going to miss this program a lot. This program and this coaching staff has prepared me for the next level but more importantly has left me with so many memories."

Ledford was selected multiple times to the Ohio River Valley Conference's all-conference team and also has been recognized as an all-state selection both preseason and postseason this past year. She was also selected this past winter to compete in the Hoosier Basketball Coaches Association Regional All-Star Game at Barr-Reeve High School on April 25. The recognition pairs alongside various other accomplishments while wearing Lady Eagle colors and in her time in the summer spent playing travel basketball.

Adding on to the recognition was her selection as a McDonald's All-American nominee, one of 700 high school basketball players to be nominated across the country. Tuesday night's presentation also allowed her to be honored with a plaque by McDonald's for her nomination.

But the most important takeaway from Tuesday night was the fact the evening was primarily reserved for Ledford inking her national letter of intent to continue her basketball career as she signed on to play girls basketball at Thomas More University.

The Saints, a former member of the NCAA Division III ranks who won three national championships in a five-year span, recently made the switch to the NAIA ranks and two weeks ago came back home to Crestview Hills, Ky. as NAIA national runner-up. Thomas More is well-known as a small school basketball powerhouse across the country and Ledford feels she is ready to make the jump.

"Thomas More is close to home … it is oonly 45 minutes away," Ledford noted. "The program has won a couple of national titles but I loved the program. The coaches were very welcoming and it just felt like home to me."

It will take the same work ethic and championship drive Ledford showed at Jac-Cen-Del to make her a mainstay inside the Thomas More rotation. Even though she will not head to the Kentucky school for a few more months, the senior is already thinking about how she can make herself fit into the program to continue on with their national reputation.

"I see myself fitting very well," Ledford said of the future. "I think what I can bring to the table for them is rebounding. I feel like they struggle with that a little bit but I am ready to be whatever they need me to be."

Ledford will major in exercise science at Thomas More and plans to pursue a career as an occupational therapist.