Lil' Miss Ripley County named on Wed. night of the fair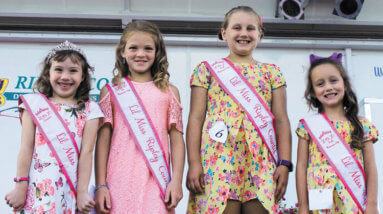 WANDA ENGLISH BURNETT PHOTO
The 2019 Lil' Miss Ripley County Pageant took place Wednesday, July 24 at the 4-H Fair in Osgood at the Free Stage area. Aubrey Kincer could barely contain her happiness as her name was called to win the coveted crown and be Lil' Miss this year. Even when the contestants were all brought on stage at the beginning of the event, she had her little fingers crossed and showed such anticipation for who would be crowned. She attends Sunman Elementary and is the daughter of Justin and Tiffany Kincer. When asked what she wants to be when she grows up, she replied, "A police girl."

The court was then named, which included: third runner-up Mersaydise Wullenweber a student at South Ripley Elementary, who said in the interview portion of the pageant that she was glad she participated because she made lots of friends.

Second runner-up is Payton Simon, who attends Jac-Cen-Del Elementary and said she participated because she wants to help the queen (Heidi Speer) pass out ribbons at the fair. When asked if she had any pets at home, she replied, "Horses…and more horses."

First runner-up is Grace Sturgeon, a South Ripley Elementary student who said she participated to have lots of fun. When asked what her favorite holiday was, she said "Thanksgiving because you can eat a lot and be with family."

The contestants were interviewed earlier Wednesday on stage and were judged on confidence, grace, poise, and individual personality.

Lil' Miss Aubrey and her court helped Miss Ripley County Heidi Speer and her court pass out ribbons at the fair.

There were eleven contestants for the pageant. They included: Madelynn Cuneo, South Ripley, said she enjoys living in Ripley County and eating her favorite food – ice cream because it's yummy; Allison Harmeyer, Jac-Cen-Del, who said her favorite movie was "Coat of Many Colors"; Paige Holcomb, Batesville, said her favorite food at the fair was the pretzel. When asked why the pretzel, she replied, "Because it's good!"; Payten Sarringhaus, Batesville, said her favorite thing to do in the winter was make snowmen with her family; MaKenna Eve Volz, St. Mary School, said she wanted to be in the pageant because her sister was in it too; Grace Weber, Sunman Elementary, answered the question, Who is your favorite person? She said, "My mommy and daddy"; and Leah Weber, Sunman Elementary, who said she participated to pass out ribbons and be more involved in 4-H.