Liming is semi-state bound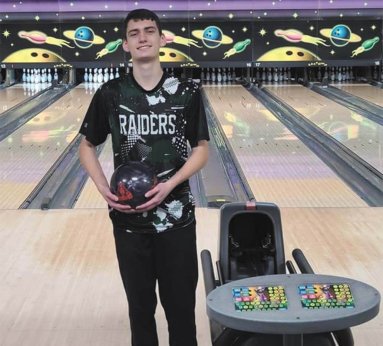 SUBMITTED PHOTO
South Ripley as a team just missed the cut but the Raider boys bowling team will still be represented in the state tournament as Eli Liming has advanced to the Indian Bowling Centers Association Semi-State.

The Raiders combined to post a score of 1999 in Saturday's regional bowl at Jasper and just missed earning the wild card berth to the semi-state. Perry Meridian earned the edge over South Ripley and Edgewood in order to advance among potential wild card teams. Southridge won the regional title on the boys side while host Jasper was the team winner on the girls side.

For a second-straight year Liming is on his way to being one bowl away from a berth in the state championship bowl. The Raiders top bowler only got better as the day went along at Eastown Rec Center, starting his day with a 136 but then heating up for a 188 in game two and a 266 in game three. Liming's third roll saw him roll strikes in every frame minus an open round in his fifth frame. HIs total score of 590 put him in fourth place overall among individuals in the regional and allowed him to advance to the semi-state.

Liming will be in Indianapolis on Saturday for the semi-state which will be hosted at the Royal Pin Expo. State qualifiers will then advance to the Royal Pin Western and compete for a state championship the following weekend.