Little secret about SCC – they serve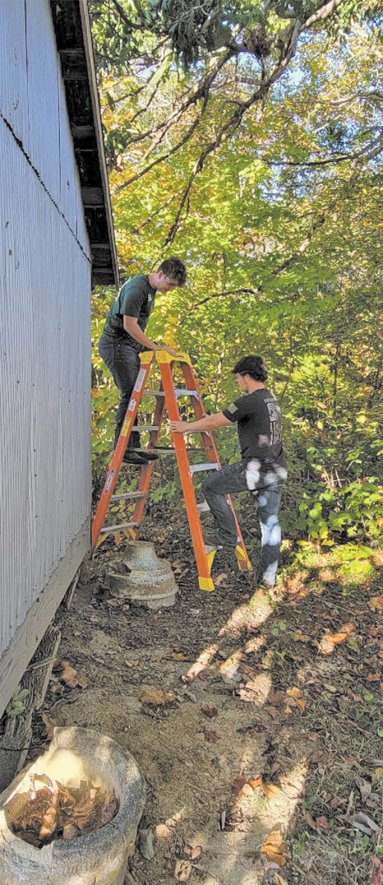 HarleyJo Kennedy Photo
Southeastern Indiana Career Center (SCC) supports many technical careers. These cost high school students minimally. They are not charged for tuition but they do need tools and materials to study with. Usually, transportation is also provided.
During the learning process of these programs the students learn in hands-on ways. They do build "model" houses and buildings (small to scale). They also build a full-sized house or remodel one.
There is the Electrical Trades; Welding; Heavy Equipment; and Building and Trades/Construction Technology.
This article focuses on these Trade's Programs that are often unheard of in our community. Students in Building and Trades are led by Todd Ault (first year students) and Rob Truesdale (second year students).
Second year students build a house or remodel one. This year their project house is in Osgood, behind Trackside Pizza.
Previous houses have been built in Versailles in: Harvest Ridge Subdivision, "Barney Adams' Subdivision" on Sunset Strip, in the subdivision behind Rolling Pin Bakery and behind Family Dollar (approximated locations).
First year students keep busy in the community also.
When contacted about a local citizen in need, Ault and his first-year students did not hesitate.
They arrived at the Antras' house and built a ramp that needed to be replaced. The previous one had dilapidated to the point of danger.
Vickie Antras (Versailles) states " my friends were afraid to use the old one! It was dangerous!" Antras indicated the only charge was for materials.
There was more community service going on at the Cliff Hill Cemetery. An "out building" or small barn was in disrepair. Many repairs were ongoing when the pictures below were taken.
All observed were practicing safety by spotting each other on a ladder and wearing safety goggles or using other safety devices while working.
Ault indicates that often it is a combined effort for many of the trade's programs. Often heavy equipment, welding and electrical are all involved in community work and repairs that are done.
There is a Vincennes University Counselor on campus at SCC. They offer dual credits with the local high schools to facilitate further education upon graduation.
The students who successfully complete their program receive fifteen college credit hours. Ault describes, "an Associates Degree is 60 credit hours." He goes on to finish "that is one quarter of their degree! For free!"
To put the cost of these programs into perspective: the cost of tuition and books/course materials/supplies/equipment, for the 2023-2024 academic year, at a local Ivy Tech Community College (for in-state students) is approximately $6000. That is a for a full-time student which is twelve credit hours.
Ault indicates many students start off at ground level with a head start and running. While others pursue a career at a higher collegiate level such as Building Materials Marketing or other business level management career in a construction company or any building materials endeavor.
Ault describes his program as starting with "bare bones safety with tools." However, upon completion the students achieve an OSHA 10 Card. That is a ten-hour training program in construction safety, hazards, employee rights and other topics. This is a conjoined effort of SCC and the local Carpenter's Union. A $60 value.
SCC also has an "articulation agreement" with the Local Carpenter's Union for all students successfully completing their program with a C or higher grade. All students that qualify are accepted into the Union and bumped to the "head of the line."
SCC is also an NCCER (National Center for Construction Education and Research) certified instructional facility.
October is "Careers in Construction Month." As a way to celebrate this, Ripley Publishing would like to thank the Instructors at SCC for facilitating well trained and certified professionals in our community.