Local 4-H member shows cattle nationally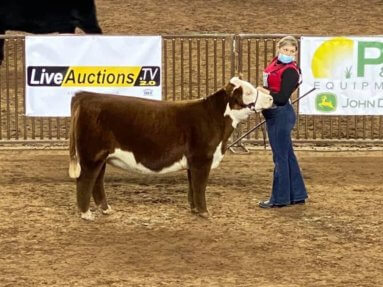 SUBMITTED PHOTO
At the 2021 Indiana State Preview Show, Olivia Neal won the IJHA Open Preview Show Grand Champion Heifer, Supreme Overall Animal, and Division 4 Champion with her cow, KLL LMAN AZALIA.

Neal is an upcoming junior at Jac-Cen-Del Jr./Sr. High School and has been showing cattle since she was eight years old. "I was first introduced to 4H and cattle shows by my family," she says. "I was interested because I saw my cousin Will working with his animals every night. I quickly became fond of his animals, and begged my mom and dad to purchase a calf for myself."
Neal has several accomplishments beyond her recent wins at the Indiana State Preview Show. She has won her breed at the Indiana State Fair, winning the open show two years in a row, and the junior show once at the Indiana Hereford Preview Show. But her proudest accomplishment is when she won county fair with a homegrown heifer. "To know that I had raised that calf, and done all the work from the day she hit the ground to the day she won fair makes me very happy and shows that my family is raising show cattle quality calves," Neal says.

Despite her successes, Neal has faced several challenges, specifically after the passing of her grandfather. She states, "Losing him put me in a slump for about two years. I lost a lot of my interest and was never excited to go to the show. I was finally able to come out of it when I began showing herefords, a breed that my family has been fond of since my papa [grandfather] was a child. Knowing that he would have loved to see me accomplish all the things I have has made me fall back in love with showing."
Neal believes the support of her family is what makes showing so worthwhile and fulfilling. "Of course winning is nice," she says, "but doing it with my family is even better. Without my family and their support I would never have gotten to where I am today. I love my family and having them around while showing cattle and seeing their faces when we have success is something that I will never be able to replace."

Throughout her time showing, Neal has learned many lessons, but there are a few particular ones that stand out to her. "Hard work will eventually be seen. At the beginning of my career I was not very successful, at large state and national shows. I kept working hard, and now I'm getting ready to end year seven of my junior show career. I have won many state titles and a few national titles," she explains. "I stuck to showing cattle even when I was not accomplishing what I wanted to, and now years later people are able to see where hard work and dedication gets you." Another lesson is about the importance of having fun. "Your junior years of 4H go by so quickly. Have fun, be passionate, and never stop until you get the results you want."

In addition to the lessons she has learned personally, Neal has several pieces of advice for younger kids interested in showing cattle. "… watch and learn from older kids, especially ones that are good at what they do," she implores. "If I would have paid more attention when I was their age I cannot imagine how much more advanced I would be. Also ask them questions, don't be afraid to walk up to an older kid and ask for advice or showmanship lessons." She also believes family is another important resource for information. "Your family loves you and knows what they are talking about. Listening to them and their advice will only help you in the long run… listen to your parents, they know more than you do no matter how you feel."
Neal's successes showing cattle demonstrate the power of hard work, community, and family, and the valuable life skills that an appreciation of animals can teach children.