Local archers compete at state level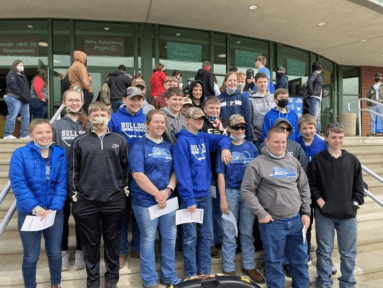 Photo Courtesy of Batesville Middle School
Local archers spanning from elementary school to high school competed this past Saturday in the 2021 Indiana NASP State Tournament in Indianapolis.

The best result of the day came from the Batesville Middle School archery team who finished runner-up in the state archery meet. The Bulldogs finished with a 3276 score and sat just behind state champion Jennings County at 3315. Jac-Cen-Del also competed in the middle school event and placed 25th among a 26-team field.

For Batesville, Kaden Mauer and Kayden Weiler placed in the top 10 among middle school boy finishers. Mauer shot a 282 and placed seventh among 300 middle school boys while Weiler placed 10th with a score of 280. The Bulldogs' top girl finisher was Lydia Haskamp who shot a 278 and finished 15th among 238 middle school girl archers.

Jac-Cen-Del's Berkley Williams was the top boy shooter for the team, shooting a 271 to place 50th in the middle school boys division. Zeda Kersey was 48th in the middle school girls division with a 267 score.

Batesville finished ninth in the high school state meet with Jac-Cen-Del finishing just outside the top 10 with a 12th place finish. The Bulldogs shot a 3264 while the Eagles shot a 3241. Castle won the high school title with a 3349.

Batesville's top high school shooter was Blake Belter who shot a 279 and was 39th out of 263 high school boy archers. AJ Mauer and Robert McKell shot a 274 and 273 respectively to finish 73rd and 80th in the boys portion. Batesville was led by Kachina Slayback in the girls high school meet, shooting a 274 to finish 44th out of 253 high school girl competitors. Carly Fox shot a 274 as well and finished 47th overall.

Jac-Cen-Del High School had two girls in the top 30. Erica Starkey shot a 279 and placed 26th while Ericka Ertel was 27th with a 279. Hunter Seitz was the top Eagle finisher in the boys competition, shooting a 279 for 43rd overall.

The Eagles' best finish as a team was inside the elementary competition, finishing in the top five with a fourth place finish and a 2883 score. North Harrison won the elementary division with a top score of 3055.

Jac-Cen-Del had four boys inside the top 20 in the individual state competition including Nolan Harmeyer who shot a 268 and was second among 211 elementary boy archers. Sam Rowland shot a 262 and was ninth overall in boys action. Sean Comer and Nathaniel Wheelden were 11th and 19th respectively in the elementary boys division with scores of 261 and 258. Josie Allen was 14th out of 149 elementary school girl archers with a score of 253.