Local archers succeed at state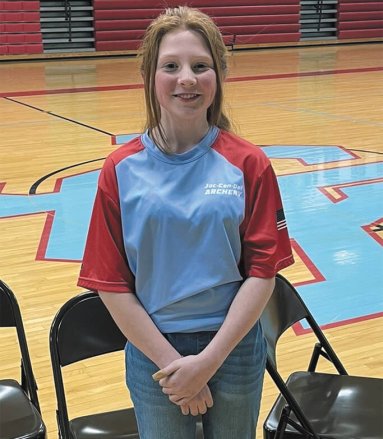 JCD SCHOOLS
One local archer, Jayden Comer of JCD, was crowned a state champion and several others joined in on the fun as part of the NASP State Bullseye Championships this past Saturday in Indianapolis.

School archery programs spanning from elementary to high school competed in the event with bragging rights on the line against the best archers from all around the state. Yet again, the coverage area provided several memorable moments and was among the best in the standings.

From a team standpoint, the Batesville Intermediate School sent two teams into the elementary portion of the State Bullseye Championship with its No. 1 team scoring a 3065 to finish second overall out of 23 teams while the Bulldogs' No. 2 team placed 16th with a 2678. North Harrison was the overall winner with a 3098. Triton Central went on to win the middle school division with a 3283 but once again it was Batesville with a runner-up finish as its middle schoolers were just behind at 3275. Jac-Cen-Del's junior high team finished eighth out of the 42 teams at 3192 and the Bulldog No. 2 middle school squad was 26th at 3069.

Batesville completed its trio of second place finishes with a runner-up spot in the high school ranks, scoring a 3390. South Ripley placed 24th with a 3185, Milan sat a spot behind at 3174 and Batesville's second team scored a 3172 for 26th place.

Jac-Cen-Del may have not competed as a team at the elementary level, but the Eagles were well-known as fifth grader Jayden Comer earned herself the NASP Individual State Championship, totaling 13 perfect 10's en route to a score of 279. She ranked not only first among all elementary school girls, but her score was 49th best out of 960 competing females at all levels.. Her fifth grade teammate Tyler Simon competed and was 81st in the elementary division, finishing with a score of 240.

Batesville had four finishes in the Top 10 of the elementary division, led by Bruce Li who shot a 273 and was sixth out of 306 competing elementary boys. Wyatt Magee was eighth with a 270 and Ayden Schneider was 10th at 269. Payten Saringhaus fired a 269 and was eight out of 246 elementary girls. 41 other Bulldogs from Batesville Intermediate competed in the state meet.

The Bulldogs in the middle school portion of the day saw top shooter Trace Scott score a 286 which earned him a sixth place finish on the boys side. He ranked first out of 158 seventh grade boys. Grace Magee shot a 276 and was 14th out of 422 middle school girls. Charlie Pulskamp at 277, Brooklyn Ludwig at 273 and Caroline Ramsey at 273 were inside the Top 25 for Batesville who again brought big numbers with 40 other competitors aiming for tens on the targets.

46 participants allowed Batesville its multiple points in high school action to round out the day. Sophomore Lydia Haskamp was tops with a seventh place finish on the girls side with a 286 and she was second out of 60 sophomore girls. Teammates Alys Cochran at 284 and Macy Young at 283 were Top 20 finishers inside a field 292 girls. The Bulldog boys were led 18th place finisher Wyatt Kruthaupt with a 286 which placed him fifth among freshman boys. Kayden Weiler was sixth among freshmen with a 285 and was 19th out of 359 total high school boy archers.

Coming off the success of Comer in the elementary ranks was Jac-Cen-Del's middle school team of 21 total competitors. Seventh grader Nolan Harmeyer was eighth overall in the boys division with a score of 284 which ranked him third among all seventh grade boys. Abby Warren was the top Lady Eagle with a score of 280, earning her an 11th place spot and the fifth best score among seventh grade girls. Makenna Westerman shot a 268 and was ninth out of 140 sixth grade girls.

Just three represented Jac-Cen-Del's high school team. Cassidy Harmeyer, a senior, came through in a big way and delivered a 287 for an overall sixth place finish. She ranked third out of 72 senior girls. Estela Lopez's 275 was 16th among junior girls and a 271 from Emalee Veerkamp placed her 26th in the senior class.

South Ripley and Milan combined for three middle school shooters on Saturday. Tyson Robinson of the Raiders shot a 255 to put him in the Top 200 out of nearly 500 middle school boys and seventh grader Katie Thomas went for a 253 which placed her 173rd out of 422 middle school girls. She was 59th among those girls in seventh grade. The Indians saw eighth grader Abigail Carpenter shoot her bow and she finished with a 258 which was 127th in the middle school girls division and 52nd among eighth grade girls.

The Indians had 21 competitors in the high school division with three placing in the Top 100. Freshman Gaige Colen was 71st in the high school boys standings with a 278 and he ranked 19th among 120 freshman boys. Samantha Johnson was 62nd among the girls at 275 and teammate Rylee Mitchell was 89th at 275. Senior Anna Barrett led South Ripley's high school squad with a 284, ranking her 17th on the girls side and junior Kody Stephen finished with a 277 which put him 79th on the boys side.

South Ripley's high school team had 18 others participate in the state meet.
The next local archery meets will be held at both Milan and Batesville on March 31 and April 1. Jac-Cen-Del will host a spring shoot on April 7 and 8. The Ripley County Tournament Shoot follows on April 15.