Local boys ready for new soccer season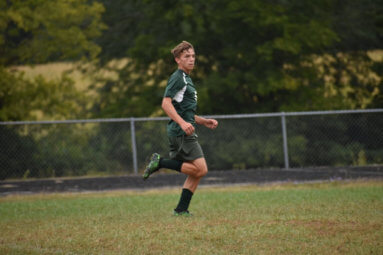 AMANDA BETZ
Jac-Cen-Del was the only coverage area team to advance out of the sectional last year but the area now looks for more than one squad to make some noise as the 2021 high school boys soccer season gets underway this month.

The Eagles and head coach Derek Jones advanced to the Class A regional championship before falling to eventual state champion Providence but now a Jac-Cen-Del team that finished 16-4-1 and won the Ohio River Valley Conference title will have to replace what was a senior-heavy group a year ago. Jacob Jines, who scored 31 goals last year, is gone via graduation as is Jordan Meyer and Yuki Casado. That trio accounted for 59 of the group's 73 goals along with 33 combined assists.

Anticipated back though is Ryan Wilson who scored eight goals and had 14 assists as a junior. Luke Meyer will also be expected to be a key player as an incoming junior alongside Caleb White who played in 17 matches during his freshman season. A handful of returners mixed with the freshmen class will be counted on to replace a total of six players.

The team perhaps with the most potential to dethrone Jac-Cen-Del in Class A Sectional 45 is South Ripley who returns all but one player from last year's roster. Although Dillon Binion's 12 goals are gone, the Raiders and head coach Nathan Hensley return arguably the best player in the area as Zach Gentile returns as a senior to a team that finished 8-8-2 and 7-3-2 in the ORVC. Gentile netted 29 goals and was just two goals shy of breaking the single-season record of 31 set in 2003 by Chris Buchanan. That mark will obviously be obtainable in 2021 but plenty of firepower returns alongside.

Names such as Logan Betz, Ben Miller, Luke Cranfill, Carson Fisk and Gavin Binion are expected back as is goalkeeper Brycten Tingle who had 102 saves in the net. The program has never won a sectional title and will look for its first along with winning the ORVC for the first time since 2010.

The other coverage area team in that sectional is Milan who went 5-10-2 in 2020 and 4-6-2 in the ORVC. The Indians, much like Jac-Cen-Del, will be in a bit of a rebuild as departed graduates Josh Clark, Evan Miller and Ethan Schwipps took with them the honors of being the program's top three scorers. That leaves the door wide open for a group of mainly underclassmen to make their mark.

Cross country runners Ben Riehle and Ayden Potts should return as sophomores with both scoring goals a season ago and also listed from last year's roster is senior Brody Lack. The rest of the cupboard will have to be determined by head coach Daniel Fix who will more than likely put together a game plan that sees the roster improve as the fall goes along.
Batesville was ranked among the best teams in Class 2A in 2020, having lost just one match during the regular season but a quest for postseason glory was cut short in the Class 2A Sectional 28 championship match, falling in a 2-1 upset to host Lawrenceburg. But redemption is on the mind of head coach Kyle Hunteman and his roster, especially with most of that team coming back.

Goalkeeper Ethan Brewer is gone as is leading scorer JJ Kuisel but several key players return to give Batesville championship hopes again. Kuisel's 23 goals can be made up with incoming seniors Ian Powers and Eli Pierson who each scored 16 goals a year ago and a slew of names that involve Willy Sherwood, Cody Sims, Ethan Goodin and Adam Vogelsang will be expected to take on bigger roles. Based off last year's roster, 12 would return to the 2021 squad as the Bulldogs will try to defend the Eastern Indiana Athletic Conference title and make good on avenging last year's sectional loss.

Oldenburg Academy rounds out the coverage area and the Twisters improved throughout the season en route to a 10-7-2 record and a sectional runner-up finish inside Class A Sectional 44. Five seniors helped Oldenburg rally the team after an 0-4 start in 2020 and this year's group will be a bit of a mystery with Chris Hautman, Race Carle, Blake Borgman, Stephen Hoff and Octavio Votti gone.

Head coach Ken Getz should get back Sam McFee, Nick Folop, Joe Suttman, Jacob Cornelius and Jake Negovetich, all of whom played roles on last year's team. McFee proved some spark offensively while the latter group was a mainstay on defense as the Twisters quickly became one of the top defensive teams in the area. Having to replace some scoring that graduated, defense may be relied upon to propel Oldenburg early on in the season while scorers will be sought out from a wide array of potential on the roster.

Oldenburg will open the season next Tuesday at home against Lawrenceburg while Batesville and Milan face off in a season opener this Saturday. Jac-Cen-Del will host the Indians next Tuesday and South Ripley's first match will be August 19 against Milan.