Local girls compete in IHSAA track and field sectional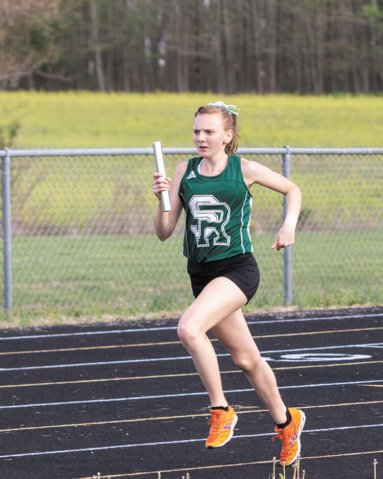 JARED ROGERS PHOTO
Track and field hopefuls from Jac-Cen-Del, Milan, and South Ripley traveled to Franklin County on Tuesday, May 14, to participate in sectional competition.
Team results were recorded as follows: 1. East Central (177) 2. Batesville (92) 3. Franklin Co. (87) 4. Greensburg (66) 5. South Dearborn (54) 6. Lawrenceburg (35) 7. South Ripley (26) 8. Jac-Cen-Del (21) 9. Oldenburg Academy (18) T10. North Decatur (16) T10. Rising Sun (16) 12. South Decatur (8) 13. Milan (7).
Three local athletes finished in the top three in their respective events, meaning they qualified for regional competition on Tuesday, May 21 (6:00 p.m. at Shelbyville). Megan Cole (South Ripley) won the 3200 meter race outright in a time of 11:23.65. Elyse Hunger (South Ripley) placed third in the 3200 meter race in a time of 12:14.17. Cloey Simon (JCD) placed third in the 300 meter hurdles in a time of 48.94.
Simon's sister, Kayla (JCD) finished fourth in the same race in a time of 49.10.
Other notable results include: Alyssa Brinkman (Milan) placed fifth among 23 racers in the 800 meter run, Shaylee Volz (JCD) placed fourth among 24 throwers in the shot put, Cierra Copeland (SR) placed sixth out of 22 throwers in the discus and seventh place in the shot put, Alijah Craig (Milan) placed seventh in the 100 meter dash, Cici Bailey (Milan) placed ninth out of 16 in the high jump, and the South Ripley 4×800 meter relay team of Megan Cole, Emily Campbell, Deborah Murphy, and Elyse Hunger placed fourth out of 11 teams in that race.