Local jailer is now a millionaire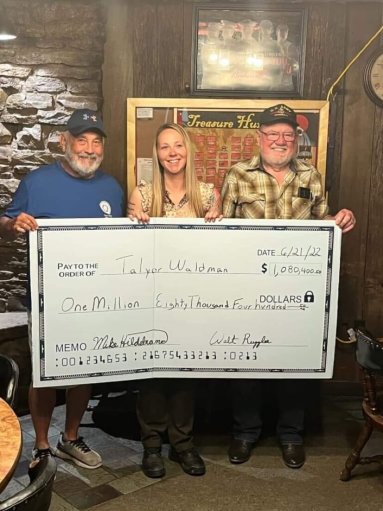 SUBMITTED PHOTO AMY DAVIDSON PHOTOS
Much like young Charlie Bucket's search for a golden ticket to Willy Wonka's chocolate factory, hundreds of locals have spent months flocking to Milan American Legion Post #235 in hopes that one lone number would forever change their lives. The top prize may not have been a lifetime supply of chocolate by any means but $1,080,400 sure does beat a candy bar.

And now the search for a winner is over. The number 19 and one big treasure hunt will forever be etched into the mind of Taylor Waldman, a Ripley County jailer that is now a millionaire after her name was called on Monday night with more than six thousand hopeful individuals in attendance inside and outside the post.

Two numbers remained on the treasure hunt board at the Milan American Legion on Monday as part of the post's weekly draw. The million-plus at stake marked the largest jackpot in the drawing's history although the post has had a past of some big payouts. Waldman says she is still in shock that it was her name announced for the prize of a lifetime.

"It's life changing," Waldman said of Monday night's draw. "I couldn't even believe my name was being called. I thought it was some kind of sick joke!"

There was no sick joke to be had. Waldman celebrated with friends and family as shock was followed by jubilation over money that many of us only dream of having. The winnings were documented by every local media outlet in addition to Channel 12 News out of Cincinnati who had followed the jackpot as the money total surged into seven figures. One day later, Waldman's official presentation was had by the Milan American Legion as she was presented a big check by Post #235 Commander Walt Ruggles and Trustee Mike Hildebrand.

Waldman says even 24 hours later that everything seemed pretty normal, the only difference being a much larger bank account.
"I still woke up at 4:30 and got ready to head to work," Waldman said of Tuesday which included her regular shift at the Ripley County Jail. "I will continue to be at the jail and work. I love my job and love the people I work with. Money doesn't change that."

But there is money to spend and Waldman says that the immediate spending will go towards her upcoming wedding this fall.

Her and fiance Zack Barrett are currently planning a September wedding and the first job the millions will have is to help fund the event and to have some fun after the fact.

"Wedding in September so that will be an immediate use of some of the money," Waldman said of future plans. "This will definitely make for a good honeymoon too. Other than that I plan to put the money away and save, save, save."

No official total of Waldman's final payout has been released. Taxes will be taken out of the $1,080,400 won while a portion of the winnings will be kept by the Milan American Legion. That money will go towards funding the next treasure hunt that is set to restart in July and will also fund future legion events and fundraising events for the community.