Local libraries hire new children's coordinators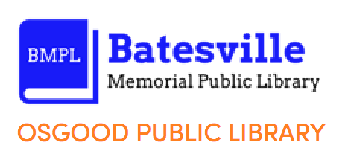 Tracy McKittrick, Staff Writer
The Batesville Memorial Public Library and the Osgood and Milan libraries have both gotten new children's coordinators to help promote child literacy in our communities.

Sarah Dobson, a former special education teacher at Jac-Cen-Del, is taking on the role of children's coordinator at the Batesville Memorial Public Library. She is replacing Sandy Dickey, who is retiring after serving in the role for almost 24 years.

Dobson was inspired to seek the job after taking her own daughter to the library. "I saw Mrs. Dickey facilitating the programs," she explains. "I thought about how much fun it would be to plan programs, read to children, and give them a start to a lifetime of learning! When I saw that she was going to retire I could not pass up the opportunity."

Dobson is thrilled and excited to see what she can do in this new job and the new ways she can challenge herself and help the community grow. She has several different goals for herself. "I would like to get more kids in the building!" she says. "I would like to increase the amount of programming that the children's department offers, especially for the first and second grade age group." She adds, "I would like to start teenage programming."

She also plans to improve the library's outreach to young children by collaborating with schools and daycares to communicate all the programs the library has to offer. "I am hoping to outreach to as many community partners as possible to bring opportunities to the kids of Batesville and surrounding communities. I believe that if we get families in the building they will realize all of the great things the library can offer to not only kids but adults too…I have ideas to bring more play opportunities for the littler children as well as connecting crafts to books!"
Brandi Truesdel's path to becoming the children's coordinator at the Osgood and Milan libraries was a little bit different from Dobson's. Prior to her job, Truesdel worked as a personal chef but sought a career change in light of the pandemic. She says that she jumped at the chance after a friend told her about the job opening.

Truesdel plans to improve the libraries' outreach by making them more visible to the community. "I just think the kids need to be reminded of who, where, and what we are!" she says.

Some of Truesdel's goals and projects include making the library more accessible on social media, a program where children can read to dogs, more story time opportunities, creating more incentives for adults to visit the library with their children, and "Build a Book," where children can submit short stories, poetry, or other art to be included in a blank book.

The community is very excited about the new ideas that Dobson and Truesdel will contribute to our children. Dobson's skills, expertise, talent, and experience as an educator will be an extremely valuable asset to her as she does an amazing job instilling a love of learning and a love of literature in our community's children. Truesdel will also do a great job. Her variety experiences in the culinary arts will provide her with a unique perspective on her new role.

Dobson has also welcomed the community to an open house that the Batesville Memorial Public Library will be holding on December 4 at 2 p.m. for Sandy Dickey's retirement.