Local runners are semi state bound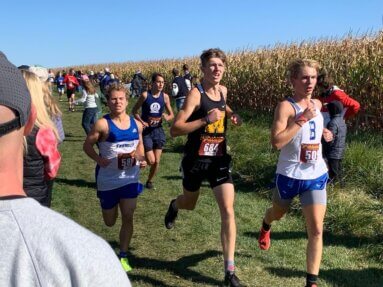 OA ATHLETICS
The IHSAA Cross Country Semi-State will have some Ripley County flavor to it this upcoming weekend after two teams and three individuals from the coverage area qualified at the IHSAA Regional this past Saturday at Franklin Community.

Milan's boys team and Batesville's girls team are semi-state qualifiers after placing in the top five of their respective races. Individual qualifiers include the Batesville boys duo of Jacob Chapman and Isaac Trossman and South Ripley's Shelby Bastin on the girls side.

Another battle of Eastern Indiana Athletic Conference rivals ensued at the regional on Saturday in the girls race as East Central won the team championship with 45 points and Batesville finished second with 70 points. Indian Creek at 90 points, Franklin at 93 points and Center Grove at 109 points rounded out the top five and semi-state team qualifiers.
Area neighbors in Greensburg, South Dearborn and Rising Sun competed, finishing seventh, eighth and ninth respectively.

The Lady Bulldogs put four runners in the top 20 en route to their regional runner-up finish including two in the top 10 as senior Ava Hanson finished seventh overall 19:41.60 and classmate Sophie Myers placed ninth in 19:46.20. Megan Allgeieir was four spots behind in 11th at 19:51.70 and freshman Lexiyne Harris ran 19th in 20:31. Batesville's final three runners were Charlotte Trossman in 24th at 20:47, Kaylie Raver in 32nd at 21:10.80 and Isabel Raab in 54th at 22:40.20.

Bastin was one of three South Ripley runners in the girls regional and her ticket was punched with a 27th place finish. The senior, who ran in a time of 21:00.50, placed second among runners who did not advance to the semi-state via a top five team finish. Only seven individual runners can qualify for the next round of the postseason. Teammates Virginia Minch and Elizabeth McKittrick placed 70th and 78th in times of 24:12 and 24:53.10 respectively.

Milan's Elly Potts ran as an individual regional runner but did not advance, just missing the cut with a 44th place finish. The freshman ran a time of 21:57.70. Two other coverage area freshmen ran as Oldenburg Academy's Madeline Ryan was 77th in 24:41.80 and Jac-Cen-Del's Allene Peters was 82nd in 25:25.20.

On the boys side it was Milan nearly knocking off Center Grove for second place but the Indians were still happy to qualify for the semi-state with a third place finish at 104 points, fending off Franklin's 106 points in fourth place and Mooresville's 121 points in fifth place. Indian Creek won the regional with 75 points and Center Grove's runner-up standing was solidified with 96 points.

Greensburg was one spot off from qualifying, finishing sixth with 129 points. East Central, Batesville and Rising Sun rounded out the team standings with 177 points, 182 points and 258 points respectively.

One week after winning the program's first-ever sectional title, the Indians fit right in with the regional field and placed three runners in the top 15 with two placing in the top 10. Junior Ben Riehle was seventh overall in 16:47.20 and freshman Gabe Riehle placed 10th in 16:57.10. Ayden Potts crossed the finish line in 14th at 17:15. Another freshman in Lucas Cooney placed 43rd overall in 18:00.10, Nathan Voss ran 46th in 18:02.90 and Ethan Dehamer was 72nd in 19:27.10.

Although Batesville placed ninth, the Bulldogs are sending two runners to the semi-state after qualifying as individuals, both of which took the final two individual qualifier slots. Chapman was 21st in 17:26.90 and Trossman ran 23rd in 17:28.40 to keep their season alive. Eli Loichinger placed 49th in 18:10.70, Cannon Clark was 64th in 19:04.90 and Deev Ranka was right behind in 65th at 19:05.20. Batesville's final two runners were Cash Myers in 67th at 19:08.60 and Paxton Harris in 79th at 20:03.30.

The remaining coverage area boys runners saw their season come to an end. Oldenburg senior Carter Walsman put together a 34th place finish in a time of 17:50.10 and he was joined by teammates Adam Dennis and Santiago Schutte at 40th and 59th in times of 17:59.20 and 18:41.80 respectively. The Ricke duo out of Jac-Cen-Del ran with Dylan Ricke placing 71st in 19:26.20 and Jacob Ricke finishing 82nd in 20:19.40. South Ripley's two runners were sophomore Bradley Leach in 78th at 19:57.90 and senior Hayden Hooten in 80th at 20:05.50.

Mooresville senior Nathan Burns won the individual boys regional title in a time of 15:42.70 while the girls winner was Indian Creek freshman Libby Dowty in 18:22.50.

The IHSAA Cross Country Semi-State will be run at the Blue River Park Course in Shelbyville on Saturday beginning at 10:30 a.m. Qualifiers from that race, both team and individual, will advance to next week's state finals race.