Local runners conclude season at semi-state meet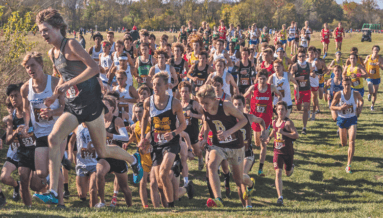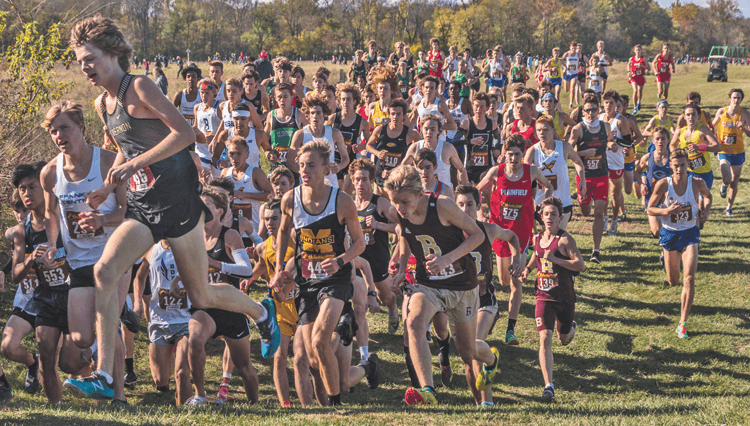 DAVID ZIGAN PHOTOS
Batesville saw its season come to an end and several local runners ran their final meet of the year as local cross country action wrapped up this past Saturday at the IHSAA semi-state meet at Blue River Park in Shelbyville.

The girls meet saw Batesville finish 12th overall among 20 teams, scoring 259 points on the day. Carmel led the pack and won the semi-state with no trouble, scoring 30 points and Franklin Central was a distant runner-up at 125 points. Zionsville finished third with 135 points, North Central (Indianapolis) was fourth with 179 points and Noblesville rounded out the top five with 209 points. Franklin finished sixth and rounded out team qualifiers for the state championship meet at 211 points.

Batesville sophomore Ava Hanson led her team with a 39th place finish among 179 runners, running in a time of 19:45. Sophomore teammate Sophie Myers was 47th in 19:56.30 and Maria Lopez was 51st in 19:59.10. Batesville's top five runners were finished out by Megan Allgeier in 20:27.30 and Lily Pinckley in 20:47.50. Madison Rahschulte ran in 21:05.70 and Trysta Vierling finished at 21:58.30.

South Ripley and Jac-Cen-Del each had a runner in the semi-state meet. South Ripley's Lanie Nicholson, a junior, ran 98th in a time of 20:35.70 and Jac-Cen-Del's Cloey Simon, a junior, finished in 21:45.10.

Batesville finished 13th in the boys portion of the meet, scoring 363 points. Brebeuf Jesuit won the semi-state with 68 points, besting runner-up Carmel who finished with 75 points. Noblesville was third with 107 points, Center Grove was fourth with 110 points and Guerin Catholic rounded out the top five at 152 points. Zionsville qualified for the state meet with a sixth place finish and 153 points.

Junior Benjamin Moster was the top finisher for the Bulldogs, running 40th among 180 runners in a time of 16:33.80 and classmate Ean Loichinger ran 55th in a time of 16:46.80. Adam Hollowell finished out his high school career with a 65th place finish in 16:54.40. Eli Loichinger in 17:48.70 and Nathan Villani in 18:19.40 finished out Batesville's top five runners. Also running were Will Nuhring in 18:25.50 and Daren Smith in 18:47.90.

Three other local runners participated in the boys semi-state meet. Oldenburg Academy senior Tyler Kuntz wrapped up a successful high school career with a 76th place finish in a time of 17:01.90. Milan freshman Ben Riehle ran in 17:34.40 and Jac-Cen-Del junior Josh Pohle finished in 18:06.