Local runners run at Great Pumpkin Invite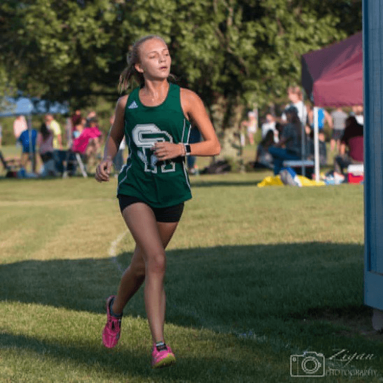 DAVE ZIGAN PHOTO
South Ripley and Jac-Cen-Del placed in the top three of the girls meet while several individual runners enjoyed success in the boys meet at the 27th annual Great Pumpkin Invitational last Thursday night in Versailles.

The girls portion of the meet saw South Ripley finish runner-up with 50 points and Jac-Cen-Del finish third with 77 points. Madison won the invitational with 38 points. Southwestern (Hanover) scored 97 points for fourth place and South Decatur finished fifth at 98 points while North Decatur rounded out the team results with 118 points.

South Ripley's Lanie Nicholson was the individual winner, running first in a time 20:26.20 and teammate Emily Campbell ran fourth in 21:59.90. Deborah Murphy was a top 10 finisher for the Lady Raiders and ran in a time of 22:24.70. Ripley was rounded out by Ava Ralston in 25:32.20 and Kara Young in 25:53.10.
Jac-Cen-Del got a top 10 finish out of Cloey Simon who was ninth in a time of 22:52.50 while Kayla Simon was 17th at 23:45.40 and Kaytlin Sizemore just missed the top 20, coming across the finish line in 24:19.10. Avery Negangard ran in 26:16.70, Lauryn Dilk finished in 26:34.30 and the Lady Eagles were rounded out by Allison Peetz in 26:59.10 and Kinsey Rohls in 28:03.10.

Milan did not field a complete team in the girls meet but saw junior Lucy Lillis run 15th in a time of 23:26.80. Renee Lillis ran in 25:04 and Sarah Lillis finished at 26:56.80.

The boys meet saw race favorite Austin get the win with 40 points with Southwestern finishing runner-up with 68 points and Rising Sun scoring 80 points for a third place finish. Jac-Cen-Del finished fourth with 112 points and Lawrenceburg rounded out the top five at 137 points. South Ripley with 138 points, Madison with 150 points, South Decatur at 190 points and North Decatur at 223 points rounded out the standings.

Jac-Cen-Del put two runners in the top 10 as Josh Pohle ran to a third place finish in a time of 17:45.20 and Damon Hughes was sixth in 18:15.40. Kameron Darnold finished in 20:03.70, while Adam Maloney and Austin Rohls finished in times of 20:32.70 and 21:02.60 respectively. Gabe Maloney rounded out the Eagles in 24:05.50.

South Ripley again packed tight together with Blake Volz leading the way for the green and white, finishing 20th in 19:18.50. Nick Zigan was right behind in 19:23.90 for 21st place and Logan Bradley ran in 19:58.40. Evan Eaglin finished in 21:12.10 and Dalton Parker finished at 23:04.60.

Milan did not field a complete team in the boys portion of the meet but freshman Ben Riehle did finish fourth overall in a time of 17:57.40. Other finishers for the Indians included Ethan DeHamer in 23:36.70, Parker Sutherland in 26:47.80 and Jared Rigdon in 30:03.

South Ripley, Jac-Cen-Del and Milan all compete in the Batesville Invitational today.