Local trio earns state softball honors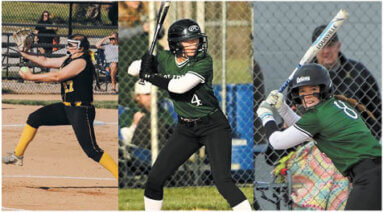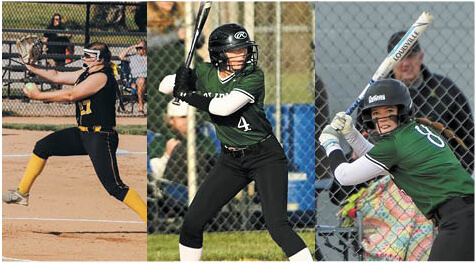 PHOTOS COURTESY OF RICH FOWLER AND ASHLEY NICHOLE PHOTOGRAPHY
South Ripley and Milan softball saw a combined three players honored by the Softball Coaches Association of Indiana this postseason after achievement on-and-off the field.
The organization announced the awards over the last week, coinciding with the final two rounds of the IHSAA Softball State Tournament. All-State selections were named last week while Academic All-State picks were released this past Tuesday.

Milan freshman Kynadee Bode was named to the 2023 Class 1A/2A Second Team All-State list after an outstanding first year inside the varsity ranks. Bode helped the Lady Indians to a 21-11 overall record and a share of the Ohio River Valley Conference Championship before a runner-up finish to Final Four participant Hauser in the Class 2A Sectional 45 Championship. She finished with a team-leading .535 batting average which included 53 hits, 14 doubles, nine home runs, 59 RBI and 49 runs.

Defensively, her pitching efforts gave way to a win-loss record of 17-3 with a 3.36 earned run average. She struck out 167 batters against 75 walks in 156.1 innings thrown.

Inside the classroom, South Ripley seniors Brionna Linkel and Olivia Kavanaugh were rewarded for the efforts that allowed them to be ranked among tops in their senior class. The Lady Raider duo both were selected as first team members to the Academic All-State list on Tuesday afternoon by the SCAI.

In addition to superb grade point averages, both were equally as impressive on the softball diamond during their careers including being members of the 2021 Lady Raider squad that won sectional and regional championships.

Kavanaugh played in all 21 games her senior year, batting .296 with 16 hits, 15 runs and 10 stolen bases. Linkel was hampered by injuries this past spring and was limited to just 10 games but still put up a .667 batting average with 18 hits, four home runs, 17 runs and 16 RBI.

No other player of local interest was selected to the Academic All-State squad. Academic All-State Team selections included nearby schools in Franklin County, Hauser and Rising Sun.