Local trio runs to state finals berth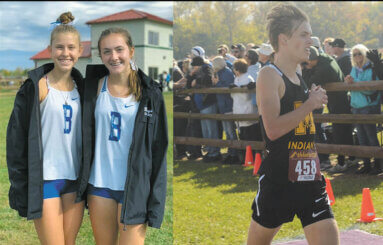 Perhaps the toughest field in the entire state invaded the Blue River Cross Country Course in Shelbyville last Saturday and in the end three coverage area runners emerged from the pack, punching state finals tickets in the process as part of the IHSAA Cross Country Regional.
The Batesville duo of Kaylynn Bedel and Lexiyne Harris alongside Milan's Ben Riehle are on their way to the state finals in Terre Haute. All three were among the Top 15 runners on non-qualifying teams at the regional.
A gauntlet of a girls race saw Noblesville win the team regional title with 76 points and runner-up Hamilton Southeastern scored 94 points. Franklin Central, Westfield and Guerin Catholic rounded out the top five as all of those schools earned berths to the state finals. Of local interest, Batesville placed 10th out of 25 teams with 271 points while South Dearborn was 21st, Southwestern (Hanover) finished 22nd and Switzerland County was 24th. Indian Creek sophomore Libby Down was the individual winner in a time of 17:45.80.
239 total runners ran in the girls race and Bedel was the coverage area's top runner, earning her state finals berth with a 26th place finish in a time of 19:44.30. Harris was four spots back in 30th to punch her ticket, running in a time of 19:48.90.
Other Batesville runners included Megan Allgeieir in 59th at 20:31.90 and sophomore Samantha Adams was 92nd in 21:15.70. Remaining Lady Bulldogs were Bayeligh Demaree (21:28.30), Charlotte Trossman (22:20.10) and Isabel Raab (23:48.30). Milan's Elly Potts also ran in the regional and finished 107th in a time of 21:31.60 while teammate Hannah Cooney crossed the finish line in 23:01.50. Oldenburg Academy's Maddie Ryan ran 190th in 23:35.90 while South Ripley saw Elizabeth McKittrick (24:27.40), Virginia Minch (24:42.10) and Chloe Ivey (25:31.30 all run in the race.
Jac-Cen-Del's Allene Peters ran and finished in a time 25:17.10.
Fishers scored 85 points to earn the team regional championship on the boys side, just barely beating out Hamilton Southeastern who scored 89 points. Other state qualifiers included Noblesville (104 points), Center Grove (119 points) and Franklin Central (146 points). Milan placed 11th out of 25 teams, scoring 334 points, while Batesville was 19th at 515 points. Sam Quagliaroli of Fishers won the individual title in a blazing speed of 15:17.10.
Riehle, a senior, makes a return trip to the state finals after running 17th out of 248 total runners in a time of 16:14.80. Younger brother Gabe Riehle just missed out, running 36th in 16:34.90 and Ayden Potts was 104th at 17:32.30. The Indians were rounded out by Lucas Cooney (17:37.30), Nate Voss (18:08), Ethan Dehamer (19:58) and Tyler Myers (21:06.10).
Batesville saw junior Jake Chapman pace them with a 61st place finish in a time of 16:51.80 while other Bulldogs included Cannon Clark (17:50.30), Isaac Trossman (17:59.30), Ethan Rahschulte (18:22.90), Eli Loichinger (18:30), Benjamin Adams (18:40.20) and Jaden Basler (18:53.60). Oldenburg Academy's Adam Dennis ran 86th in 17:20.30 and fellow Twister Santiago Schutte finished at 18:06.
South Ripley freshman Mason Bascom ran his first regional race in a time of 18:49.90.
The IHSAA Cross Country State Finals will be run at the historic LaVern Gibson Cross Country Course on Saturday with the boys race beginning at noon and the girls race being run at 2:30 p.m. More information will be available about the meet in Thursday's Versailles Republican.