Local trio sings National Anthem at Reds game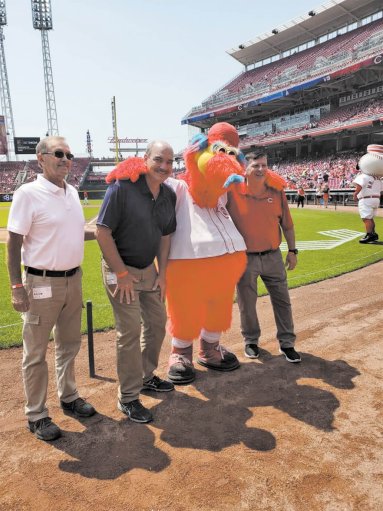 SUBMITTED PHOTO
It's time for America to celebrate!
Three Ripley County men took their God-given talents to a Cincinnati Reds game recently to sing the National Anthem. The trio known as Safe in the Harbor, are comprised of Rob Hunger, Jr. Schutte, and Steve Antras.
How did they get noticed? The three had been going to a veteran's banquet at Trinity Christian Church in Lawrenceburg each May. A veteran who attended the banquet, Ron Spurlock, asked if they would like to sing the Anthem at a Reds game. Of course, they did! They made a recording, sent it to the Reds and in a short time were called to be featured.
Antras told the Osgood Journal they made the trip to Cincinnati with 50+ family members and friends. "We were so thankful for their support," he noted of those who went along. "What an honor it was, and an emotional time as well," he shared.
Singing at the Red's game was a thrill for them as they are all fans. They also will share their love for music and God anywhere they can. The group has been together for about 35 years where they sing in local churches and nursing homes.
Antras said they started out singing at the Washington Baptist Church in Elrod, in a group called Spiritual Sounds. "Jr. played a guitar. Then Jr. and I started singing as a duo. Rob joined us four-six months later. We had been thinking about a name not long after we started being asked to sing at other churches. One morning we had a special guest that did chalk drawings. After he completed the drawing…he called it 'Safe in the Harbor.' That was one of the names we had been considering, so that solidified it for us," Antras noted.
Safe in the Harbor has been together longer than the men have been living, but they did take a few breaks due to life duties. Antras was in the Navy and was deployed in 2005 and again in 2010 when he went to the Middle East. Then, with COVID, they stopped for a while. They are back singing for the glory of God, with Jr. living off 129, retired from Delta Faucet, Rob lives in Osgood and works for REMC, and Steve is just retired from USDA after 47 years.