Local volleyball looking for a champion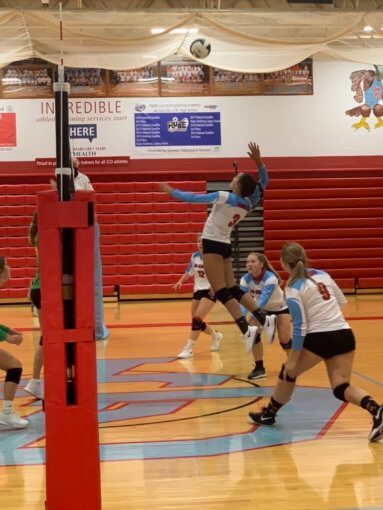 PHOTOS COURTESY OF JCD SPORTS
None of the five coverage area schools produced a conference champion or sectional champion for the 2020 volleyball season but the potential lies in 2021 for that result to change as matches get underway next week.

A rather youthful season a year ago gives way to experienced rosters all the way around and that starts with several teams returning all-conference performers.

Batesville, a 14-11 team a year ago, brings back a pair of Eastern Indiana Athletic Conference all-conference picks in Kylie Laker and Cayman Werner but head coach Kateri Paul will have plenty around the duo. Middle hitter Kathernie Bedel returns to aid both Laker and Werner and senior Shelby Westerfeld can provide some spark as a hitter and leader. Sophie Lee and Brayleigh Patterson are each seniors and other returners will be Kaylie Raver, Laney Walsman, Isabelle Westerfeld and Margaret Wilson.

The Lady Bulldogs certainly have a mix of youth and veterans which should aid in pursuit of an EIAC title and a shot at a Class 3A sectional crown.

Inside the Ohio River Valley Conference, South Ripley was a 10-14 squad in 2020 but returns two all-conference picks and a total of eight players from that team which should make the green and white a favorite in the area. Co-head coaches Lisa Gilpin and Kyle Jolly get back All-ORVC selections in junior Brionna Linkel and senior Rachel Meyer, with the two totaling 472 assists and 265 kills respectively. Senior Sarah Meyer had 144 kills and 31 blocks and the group also brings back seniors Gracie Gunter and Alexa Heidt to go along with Lydia Cornett, Katelynn Samples and Cassie Franklin.

With a slew of seniors and juniors now in place to lead, South Ripley could be in line to be a Class 2A sectional favorite and the favorite to take home the ORVC crown.

Jac-Cen-Del will try to have something to say about that after a very inexperienced roster improved throughout the 2020 season. With a year under their belt, the Lady Eagles and head coach Cat Schmeltz should unquestionably improve on what was a youthful 6-13 mark.

Although All-ORVC selection Shaylee Volz is gone, all-conference pick Aundrea Cullen comes back as a senior specialist and classmate Desiree Sparks will be a major player as a middle hitter. Also expected back is Emmalee Veerkamp and Katelyn Wagner, giving Jac-Cen-Del four seniors to lead the quest for a resurgence within the program. The Lady Eagles had some bright spots in the rebuilding process last year and now look to string together more consistent and positive results when the season starts up.

With Gayle Healy in as the new head coach last year, Milan was an interesting blend of several seniors but several underclassmen too and the result was a season of struggles for the Lady Indians who never seemed to have a full and healthy roster on the floor. Now a young team, the black and gold are hoping success at the junior varsity level last season can translate to the varsity level.

Hitters Sophie Thomas and Angela King, both All-ORVC selections, are gone via graduation and along with them are five other graduation seniors who have departed the school. The big question will be who can fill those spots. Large junior and sophomore classes hope to answer that question and fill those voids Juniors include Eleanor Honnert, Ariel Haessig, Abby Moore and Brooke Hoffman while Rachel Holt will be a sophomore middle hitter to watch. Riley Schwipps, a sophomore, will also be in the mix as will Karsyn Bode and a group of five freshmen who join the varsity ranks.

Rounding out the coverage area is Oldenburg Academy who also found themselves rebuilding last year and going 5-21 in 2020. Three seniors are gone in Annaliese Nobbe, Ella Fledderman and Jessica Rees but the rest of a once young group will also be in the same category of using last year's woes to build towards a positive 2021.

Underclassmen expected back are Kate Weber and Chloe Bohman. The two helped combine for nearly 150 kills last season and senior Jenna Kohrman has the chance to provide in a variety of areas. Junior Elle Bruns would come back from having 12 blocks and Elizabeth Gigrich comes back after leading with 453 digs. Caroline Jansing and Mary Hunter will be two players to watch. The roster back also makes up over half of the team's assists from 2020. Head coach Debbie Gregg will look to get the Lady Twisters to double-digits in the win column and compete against some of the better competition on the schedule.

Jac-Cen-Del is scheduled to open the season at the Morristown Invitational this weekend while Milan goes to Batesville on Saturday. Oldenburg hosts Greensburg next Tuesday and South Ripley's opener is scheduled to be against Batesville on Monday at home.